Yul Kwon is the Sole Survivor of Survivor: Cook Islands. He later competed on Survivor: Winners at War.
The series' first Asian-American winner, Yul was best known for his role as the chief strategist of the improbably successful Aitu Four alliance, which overcame a daunting numerical disadvantage to sweep the final four. Yul played a key role in this reversal when he used his Hidden Immunity Idol to gain Jonathan Penner's allegiance. His social equanimity and keen strategic mindset earned him the title of Sole Survivor in a close 5-4-0 vote in the series' first Final Three.
Returning to Winners at War, Yul emerged as an early strategic force by rallying the one-time players against the rest of the Dakal tribe. Following the tribe switch, he found himself in a numerical advantage on the new Sele. However, he was blindsided one cycle before the merge as Michele Fitzgerald and Nick Wilson feared his strategic acumen. He failed to win both re-entry duels and finished in 14th place.
Profile
Retrieved from CBS.com
Yul Kwon was born in Queens, New York to parents who emigrated from South Korea. The family moved to the West Coast when he was six years old and he was raised in Concord, California. He attended high school at Northgate High in Walnut Creek, California, where he played varsity water polo and track and graduated valedictorian.
Kwon then attended Stanford University and obtained a Bachelor of Science Degree in symbolic systems (theoretical computer science). While at Stanford, he received the James Lyons Award for Service, attended officer candidates school for the U.S. Marine Corps and graduated Phi Beta Kappa. Kwon went on to receive his Juris Doctor Degree from Yale Law School, where he served on the editorial board of the Yale Law Journal.
Kwon has enjoyed a diverse career straddling both the private and public sectors in law, business and technology. He practiced a mix of litigation, appellate, transactional and regulatory work at several law firms. He also served as a judicial clerk to a federal judge on the 2nd Circuit Court of Appeals. Additionally, he worked as a legislative aide to Senator Joseph Lieberman in Washington, D.C., where he helped draft sections of the Homeland Security Bill and other technology-related legislation. Several years ago, Kwon decided to switch careers and become a management consultant at McKinsey. From there, he joined Google's business strategy group and most recently went back into consulting.
Kwon's favorite hobbies include politics, boxing, ultimate fighting and volunteering with kids. He describes himself as idealistic, compassionate and ambitious. He became passionate about creating awareness for more minority bone marrow donors in the U.S. after launching a major search to find a match for his best friend who was diagnosed with leukemia, but ultimately succumbed to the disease.
Kwon is a member of the Washington, D.C. and California State Bar Associations. He is also a member of the Lambda Phi Epsilon fraternity.
Kwon currently resides in San Mateo, California. His birth date is February 14, 1975.
[1]
Hometown: Concord, California
Current residence: Los Altos, California
Previous season: Winner of Survivor: Cook Islands (Season 13)
Occupation: Product Management
Hobbies: Hobbies? You mean the things I used to do before I had kids?
Pet peeves: People who don't wash their hands after using the toilet. I'm a total germophobe.
Three words to describe you: Empathetic, introverted, and idealistic.
When did you first watch Survivor? Survivor: Borneo!
Do you still watch Survivor? Yes.
Who is your inspiration in life? I once heard someone say that the richness of a person's life isn't measured by money, but by the people in it. I felt inspired by this back then, and continue to believe it today.
What does Survivor mean to you and your family? I owe my family to Survivor. I met my wife after we were set up by Brad Virata (my Tribemate from Cook Islands) and now we have two beautiful girls who just watched Survivor for the first time!
What is one way playing Survivor changed your life? Winning Survivor gave me a platform for raising awareness of issues I care about, from diversity in media, to the need for more minority bone marrow donors, to the importance of civic and political engagement. It also gave me a lifelong aversion to eating coconuts.
As Survivor approaches Season 40 and celebrates 20 years on television, what does it mean to be a part of the legacy? It's gratifying to be part of something that changed the media landscape and brought more diversity onscreen to mainstream audiences. Survivor showed that, regardless of gender or ethnic differences, we're all human beings who share a common capacity for connection, inspiration, and glee over well-executed blindsides.

How will you play differently than you did in your past season?
When I played on
Cook Islands
, I felt as though I had to walk on eggshells and monitor every word, especially in light of the surprise theme for that season. Now that I'm free of those constraints, I'm just gonna let it rip!
[2]
Survivor
Cook Islands
Yul began the competition as part of the green Puka Puka (nicknamed "Puka") tribe, which was entirely comprised of Asian-Americans. When the tribes marooned off the Cook Islands, the four racially divided tribes scoured the ship for supplies. Frantic as everybody, Yul got distracted by all the commotion, causing the chicken he was holding to escape, only to end up in the hands of another contestant, Jonathan Penner.
Four to five days in, Yul immediately began a friendly bond with tribemate Becky Lee, which would eventually blossom as a formidable alliance of two, while slightly became distant to another tribemate, Cao Boi Bui, whose "Asian jokes" silently aggravated the other tribe members, Jenny Guzon-Bae and Brad Virata. Any strategies within Puka Puka were put on hold, as the green tribe won two consecutive Reward/Immunity Challenges. On Day 5, Yul was sent to Exile Island, where he solved the clues to a broken compass, which was revealed as the Hidden Immunity Idol, giving him a high degree of power.
When the four tribes became two on Day 7, Yul, Becky, and Cao Boi were transferred to the new Aitutaki tribe, along with members from the other three original tribes. Yul bought time to expand his alliance, adding former Rarotonga members Jonathan, who happened to be the only other person to be sent to Exile Island at the time, and Candice Woodcock. After losing the subsequent Immunity Challenge, an added twist that sent Candice to Exile Island ruined Yul's plans to take his new alliance in motion. To make up for Candice's absence, Yul improvised by convincing Cao Boi and Jessica Smith to eliminate Cecilia Mansilla. The new Aitutaki tribe later enjoyed a lengthy winning streak, winning four of the next five challenges.
After a double elimination twist that would forcibly send Aitutaki to Tribal Council, Yul was approached by Cao Boi, who presented a plan which he called "Plan Voodoo." The salon owner speculated that Jonathan had the Hidden Immunity Idol and that there was a budding "Whites' Alliance" once the Caucasian contestants would be reunited at the merge. As a solution, Cao Boi proposed that the vote should end up a 3-3 tie between Candice and Jonathan to nullify any power obtained by playing the idol. While oblivious of the fact that Yul was the true owner of the idol, this, and his eccentric personality caused Cao Boi's "Plan Voodoo" to backfire, sending him home and keeping Yul's alliance intact. When Rarotonga finally broke Aitutaki's winning streak, Yul joined in sending Jessica home for being an alliance outsider.
On Day 20, the castaways were given the chance to mutiny. Candice and Jonathan took the opportunity, leaving only Yul, Becky, Sundra Oakley, and Ozzy Lusth, who was the next intended target. Despite the numbers disadvantage, the Aitu Four rallied together to win the remaining challenges, and would punish Candice at every opportunity by sending her to Exile Island for her betrayal. The Aitu Four would enter the merge with five Raros and needing someone to flip, and Yul turn towards Jonathan to flip back to Aitu. After showing him the Hidden Immunity Idol, Jonathan agreed and would like to vote off Nate Gonzalez instead, trusting him the least. Yul agreed and Jonathan flipped to the Aitu side, resulting in Nate being blindsided.
Yul revealed his idol to the tribe at the Survivor Auction. After the remaining Raros, including Jonathan, were voted out, Yul was in the final four, with his alliance. During this time, Yul realized that he was being viewed as the brains of this operation and how he sent players to the jury mattered. This resulted in him posturing to the eventual members of the jury by agreeing to Adam's request for Jonathan to go before him and also bringing Jonathan's hat back to Tribal Council following his blindside. On Day 38, a Tree Mail stated to perform the Rites of Passage and proceed to the Final Immunity Challenge. Confused by this, Jeff revealed that this season would feature a Final Three for the first time at Final Tribal Council instead of the usual Final Two. Although unable to win immunity, his Hidden Immunity Idol kept him safe. He offered the idol to Becky, but she rejected it stating it was only fair to enter a tiebreaker between Becky and Sundra after all they've been through.
At Final Tribal Council, Yul explained his strategy and also revealed how much it meant for him to be a part of this season as he grew up with few Asian American role models on television. When Candice asked him about playing the jury, Yul's awkward answer left Candice's eventual swing vote up in the air. In the end, Yul was declared the Sole Survivor for his brilliant strategy and excellent social game over Ozzy's dominance in challenges in a 5-4-0 jury vote.
At the Live Reunion Show, Yul lost to Ozzy for most popular contestant of the season, with the latter winning a car.
Voting History
Episode
Yul's
Votes
Voted Against
Yul
1
Puka Puka Tribe Immune
2
Puka Puka Tribe Immune
3
Cecilia
-
4
Aitutaki Tribe Immune
5
Aitutaki Tribe Immune
6
Cao Boi
-
8
Jessica
-
9
Aitutaki Tribe Immune
10
Aitutaki Tribe Immune
11
Nate
Adam, Candice,
Nate, Parvati
12
Candice
-
13
Jonathan
-
14
Parvati
-
15
Adam
Adam
Sundra
-
Jury Votes
for Yul
Adam, Brad, Candice,
Jonathan, Sundra
Sole Survivor, Day 39
Winners at War
Yul described his return to Survivor as if he was "a dinosaur time bombed into the future," stating his need and intentions to adapt. Yul quickly became allies with Sophie Clarke who admired him as an intelligent player. The two were immediately on the same page as they planned to recruit the one-time players with the fewest connections (Wendell Holland and Nick Wilson) and join forces with the Game Changers trio of Sandra Diaz-Twine, Sarah Lacina, and Tony Vlachos to target the alleged "poker alliance" which consisted of Amber Mariano, Kim Spradlin-Wolfe, and Tyson Apostol. This plan worked through the first Tribal Council as that trio folded quickly, and Amber was voted out that night. Tyson attempted to turn the tribe against Sandra, but Yul immediately reported this development to Sandra. This would seal the Blood vs. Water winner's fate on Day 11.
Yul appeared to be in a strong position following the Tribe Switch as Wendell and Nick formed a majority with him over former Sele players Parvati Shallow and Michele Fitzgerald. Parvati and Yul briefly reconnected due to their Cook Islands history, but Yul ensured that history repeated itself by holding together his majority (despite Wendell complicating matters with his offer to flip to Parvati's side for Fire Tokens) and voting Parvati out on Day 16. That same night in the Double Tribal Council saw Yul receive a Fire Token from Sandra. Yul confronted Wendell about the recent developments, but while Yul thought he was looking out for Wendell, Wendell began to realize Yul was becoming distant from him. Wendell would be blamed for Sele's Immunity Challenge loss on Day 18, and Yul and Nick seemed ready to turn on him and spare Michele to move forward as a trio going into the merge. Yul would then talk about how to potentially get Wendell's Fire Tokens, which caused Nick and Michele to realize that perhaps it would make more sense to vote Yul out instead of Wendell. At Tribal Council that night, Yul assured the tribe that he would be willing to work with this group even if it required being voted out and rejoining them in the re-entry duel while reiterating how he wished to stay with them in the tribe. Unfortunately for him, they kept Wendell, voting Yul out 3-1.
Due to his recent arrival at the Edge of Extinction, Yul did not have an opportunity to receive a Fire Token. This meant he would be one of just three players in the field of eight without an advantage. Despite this setback, Yul had a strong performance in the challenge. He did well up until dropping the ball around halfway through the maze, opening the door for Tyson to return at his expense. Yul was initially excluded by the rest of the Edge inhabitants as a newer arrival. Days later, he earned two Fire Tokens upon completion of the coconut effort task. Those tokens allowed Yul to purchase an advantage for the final opportunity to return to the game. He was unsuccessful following another good effort, resulting in his official elimination from the game.
At Final Tribal Council, an apparently stage fright-stricken Yul simply offered his congratulations to the finalists and encouraged them to give it their best shot. He voted for Tony to win the title of Sole Survivor, which he ultimately did in a 12-4-0 vote.
Voting History
Episode
Yul's
Votes
Voted Against
Yul
1
Dakal Tribe Immune
Amber
-
2
Dakal Tribe Immune
3
Dakal Tribe Immune
4
Tyson
-
5
Sele Tribe Immune
6
Parvati
-
7
Wendell
Michele,
Nick, Wendell
Voted Out, Day 18
8
On Edge of Extinction
9
10
11
12
13
14
Eliminated, Day 35
Voted for
Sole Survivor
Tony
Post-Survivor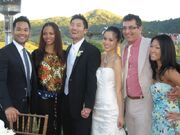 Yul made several notable lists in 2006/2007, including People Magazine's Sexiest Men Alive, People Magazine's Hottest Bachelors, and Extra TV's Most Eligible Bachelors. He was profiled in VIBE Magazine's "Juice" issue as part of the New Power Generation, consisting of people who will shape the future. An online poll by Entertainment Weekly also found Kwon to be the favorite Survivor winner among its readers.
On April 12, 2008, Yul proposed to Sophie Tan, who accepted.[3] The couple was introduced through Brad Virata and couple married on April 18, 2009.[4] Brad, Becky, Jonathan and Sundra were attendees in the wedding. Yul and Sophie have two daughters: Genevie (born September 2010)[5] and Kaylin (born February 2013).[6]
In summer of 2009, Yul, along with the other first eighteen Survivor winners, appeared on a TVGuide special "Survivor Millionaires: Where Are They Now?"[7]
In 2012, Yul hosted America Revealed, a show on PBS that explains how America gets its energy. Yul also began to appear in Korean dramas in acting roles in that year.
Trivia
Yul was the only person on Cook Islands to be exiled who was not a member of Rarotonga.

He was also the only person to be exiled once as the others sent to Exile Island were exiled at least three times each.

Yul is the first castaway to find the Hidden Immunity Idol and win the game.
Yul is the first and only Survivor contestant to reach Day 39 without ever being in danger of being voted out. Yul's original tribe won the two Immunity Challenges it competed in, after which Yul found the Hidden Immunity Idol, which he held until Day 38. This feat is unlikely to be repeated due to the format change of the idol's usage the following season.

Yul is the first contestant to secure a seat at the Final Tribal Council before Day 38—because of the aforementioned circumstances, following Adam's elimination at Tribal Council on Day 37, Yul was guaranteed to be in the finals as long as he did not relinquish his Hidden Immunity Idol. He would be followed by Michele Fitzgerald in Kaôh Rōng.

Yul is the first Asian-American to reach the Final Tribal Council. He would immediately be followed by Becky Lee, who won a tiebreaker on Day 38.
Yul is the first Korean, East-Asian-American and Asian-American in general to win.
Yul was the first man to reach the Final Tribal Council without winning an individual Immunity Challenge, and subsequently the first man to win under such circumstances.
Yul is the first Sole Survivor to have the same number of votes against as the amount of jury votes for.
Yul is the first Sole Survivor to win against two finalists, as he was in the first Final Three in the show's history.
Yul is the first Asian-American Sole Survivor. He would be followed by Natalie Anderson.
Yul was considered for Micronesia, but was not chosen.[9] According to Coby Archa, Yul was originally cast on the season, but was cut at the last minute due to the change from an "All-Stars" season to "Fans vs. Favorites" season.[10][11]
Yul is the only man from the original Dakal tribe to not reach the merge, as Tyson Apostol won the first Edge of Extinction return challenge.
References