Tijuana Bradley is a contestant from Survivor: Pearl Islands.
Although she stayed off everyone's radars for the majority of the game, Tijuana fell victim to a plan spearheaded by Jonny Fairplay which led to her getting voted out.
Profile
Retrieved from CBS.com
Born and raised in St. Louis, Tijuana Bradley is currently single and employed as a waitress; she recently resigned from a position as a pharmaceutical sales representative. She holds a Bachelor of Arts degree in mass communications with an emphasis in broadcast journalism from St. Louis University. In her hometown of Webster Groves, she was Miss Webster 1993. In college she was a SLU Cheerleader, interned at a network-affiliated television station and later worked as a high school cheerleading coach. Her favorite hobbies include fishing, skydiving and taking her nieces to different entertainment and education events. She is most proud of her mother's ability as a single parent to raise her and her brother, as well as the love and lessons her late mother taught her. She belongs to Big Brother/Big Sister and volunteers at homeless and women's shelters. Her favorite sports are stunt-cheerleading, basketball and football. Her mother is her hero. She describes herself as perky, emotional and genuine. She believes her sense of logic, attention to detail, athleticism, expression, motivation, ability to be realistic and nurturing nature make her a perfect candidate for Survivor: Pearl Islands. Her birth date is July 23, 1976.[1]
Survivor: Pearl Islands
Tijuana was initially placed on the Morgan tribe and was shocked when it was revealed that the castaways would only be taking the clothes on their backs. The tribes was given 100 Panamanian Balboas along with their running shoes, to gather supplies at a local market. At the market, Morgan was disorganized and had problems with the language barrier. Nicole Delma grew annoyed with Tijuana's overzealous demeanor. The Drake tribe had much more luck as Sandra Diaz-Twine spoke Spanish. The tribe left their running shoes unattended next to Rupert Boneham, which he immediately pirated for his own tribe. Tijuana was annoyed when she saw Drake with so many supplies. At camp, the tribe had difficulty making shelter. The tribe lost the first challenge of the season, sending them to Tribal Council. Lillian Morris claimed that Nicole told her that she wanted Tijuana out. Tijuana confronted Nicole about the accusation, which the latter denied. However, Nicole was deemed to cause too much drama and was unanimously voted out.
Unfortunately, things didn't improve for Morgan as they lost the following Reward Challenge. An additional stipulation was that the winning tribe could loot one item from the losers camp. Sandra Diaz-Twine was sent to take the water pot. However, she was unable to find the pot. Sandra took the tribe's tarp, dismantling the shelter in the process. Everyone was annoyed by this and her attitude. Osten started having thoughts of quitting, much to Tijuana's disappointment. The tribe lost the next Immunity Challenge. The tribe's leader, Andrew Savage, felt that the tribe would benefit with Osten's strength. He swerved the vote towards the perceived weakest member, Ryan Shoulders. Lillian was upset that her closest friend was voted out over someone who gave up. The tribe was devastated when they lost the Reward Challenge for sleeping comfort items, which was their only complaint. Christa Hastie came for Drake and looted the tribe's water pot. The tribe continued to lose challenges by losing immunity. The vote came down to Lillian and Darrah Johnson. Darrah's athleticism outweighed Lillian's work ethic and the latter was voted out.
Because Lillian was Morgan's hardest worker, the tribe felt the impacts of not having her around. Morgan lost the next Reward Challenge yet again and Trish Dunn took the tribe's lantern. However, Morgan finally won a challenge after the Drake tribe threw the Immunity Challenge. In a twist, Morgan was allowed to kidnapped one of the Drake tribe's members. The tribe picked Rupert. Under his guidance, the Morgan camp improve significantly. The shelter was elevated and moved away from the tides. Rupert also caught many fish and taught Ryan Opray how to do so. With Rupert at their side, Morgan won its first Reward Challenge for many things, most importantly a shower. Rupert went back to his Drake tribe. Morale at Morgan was at its highest ever. The good fortune continued as Morgan won the gross smoothie drinking challenge for immunity. One morning, a pelican arrived at camp which Ryan would give it a name, Pete. Tijuana cracked up seeing Osten's hostile reaction to the bird. Morgan's winning streak came to an end when Drake won a Reward Challenge. Drake sent Jonny Fairplay to loot Morgan. When Little Jon, as Andrew referred him as, came to Morgan, he appeared diplomatic. However, towards the end of his visit, Jon claimed that Drake threw the first challenge Morgan won just to blindside Burton Roberts. Morgan was stunned by the revelation, but later dismissed the claim as crap. Andrew was so annoyed with the claim that he won the following Immunity Challenge single handled.
On Day 19, The tribes converged at challenge. Everyone was shocked when The Outcasts, the first six eliminated castaways returned for one last shot to get back in the game. The Outcasts won the crucial Immunity Challenge, sending both Drake and Morgan to Tribal Council. Tijuana agreed with Osten leaving the game due to his health problems. Later that night, Lillian returned to Morgan as part of The Outcasts twist. Everyone welcomed her with open arms, but Lillian was still cautious of her tribe, especially Andrew who was partially at fault for her elimination. The tribes merged at the Immunity Challenge. The tribes moved to the Drake camp for the rest of the game. After enjoying the feast, the former Morgan members decided to vote against Jon for his arrogance and selfishness. Tijuana suspected that Lillian was the swing vote. Unfortunately, this was confirmed as Lillian flipped to Drake to vote out Andrew. 
In the minority, Ryan tried to get Burton and Lillian to flip to blindside Rupert. Tijuana lost in the first round of the Reward Challenge. At the camp, Tijuana noted that Drake always had a large supply of food. She also believed that the former Drake was overworking and that impeded on her self-expression. Christa viewed Ryan, Darrah, and Tijuana as unmotivated and lazy. At the Immunity Challenge, Tijuana and Darrah helped eliminate Ryan from the challenge. After that, Tijuana targeted Burton. However, she was the third person knocked out of the game. Rupert won immunity. Darrah and Tijuana help vote out Ryan.
Both women felt they were sunk. However, they were given a saving grace by Jonny Fairplay, who wanted to blindside Rupert. At the Reward Challenge, the castaways had to pair up with each other. Tijuana was paired with Sandra, but they lost to Jon and Rupert. At the Immunity Challenge, Tijuana was quickly knocked out of the challenge. Jonny Fairplay's plan came too tuition and Rupert was blindsided in a 5-2-1 vote. After Rupert's elimination from the game, Sandra had a confrontation with him and warned the women to not to trust him. After a loud argument, all of the fish Rupert Collected disappeared. Christa was blamed for the missing fish, upsetting her. The true Culprit was Sandra. The Reward Challenge was the Loved Ones Challenge. Tijuana was excited when she saw her high school sweetheart and still great friend, William. Tijuana was touched when she learned that Jon's Grandma supposedly died. In truth, the was a ploy to win the Loved Ones Challenge. The plan worked and Fairplay won the challenge. The others had to spent the night on a separate beach. Sandra grabbed Tijuana to spy on Burton and Jonny Fairplay. She heard something on the lines of The men and Lillian for the final three. Tijuana relayed this to Darrah. At the Immunity Challenge, Tijuana was disqualified for using a plural word. Burton was initially declared the winner, but it was stripped due to a misspelled word. In a second contest, Darrah won immunity. Tijuana and Darrah considered voting against the strong Burton or the antagonizing Christa and Sandra. The women decided on Burton. Jonny Fairplay, however, wised up to the mutiny and convinced Christa and Sandra to vote against Tijuana. The Drake women begrudgingly agree and Tijuana was blindsided in a 5-2 vote. 
At Final Tribal Council, Tijuana first congratulated the finalists. She asked the finalists why the other don't deserve to win the million dollars and the other does deserve to win. Before she answered the question, Lillian asked for forgiveness from Sandra. Sandra said that Lillian had to say something bad about her. Lillian said that Sandra was undeserving because she was disrespectful and rode coattails. Sandra said that Lillian voted against everyone on the jury. She reminded Christa and Rupert that she didn't vote against them. Tijuana voted for Lillian because she felt that Lillian played the game to the best to her abilities. 
Voting History
Tijuana's Voting History
Episode
Tijuana's
Votes
Voted Against
Tijuana
1
Nicole
-
2
Ryan S.
-
3
Lillian
-
4
Morgan Tribe Immune
5
Morgan Tribe Immune
6
Morgan Tribe Immune
7
No Vote
8
Jon
-
9
Ryan O.
-
10
Rupert
-
11
Burton
Burton, Christa,
Jon, Lillian, Sandra
Voted Out, Day 30
Voted for
Sole Survivor

Lillian
Post-Survivor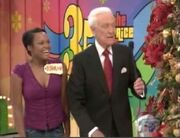 On December 20, 2006, Tijuana appeared as a contestant on The Price Is Right. She was the first contestant to get up on stage, winning a $2,507 trip to Las Vegas. However, Tijuana did not win her pricing game and failed to make it to the Showcase.[3]
On January 9, 2010, Tijuana attended Survivor's 10-year anniversary party.
Tijuana has since married and had a daughter with her husband.[4]
Trivia
Tijuana was voted out one day short of her 27th birthday.
Tijuana was the first woman to be voted out by someone they had previously voted out.
Tijuana was the only jury member to vote for Lillian Morris to win Pearl Islands, preventing Sandra Diaz-Twine from having the first "perfect game" in Pearl Islands (i.e. never receiving votes against and receiving all jury votes in a season). This also made her the first woman to be the only person to vote for a single finalist.

Along with being the first jury member to vote for someone to win after successfully voting them out earlier in the season, she is also the first jury member to vote for a finalist who was voted out and re-entered the game.
References