Tanya Vance is a contestant from Survivor: Thailand.
Although she was well-liked, Tanya was voted out due to falling ill very early on in the game.
Profile
Retrieved from CBS.com
Born and raised in Kingsport, Tennessee, Tanya Vance won multiple awards in high school for her achievements in track and field, including being voted Female Athlete of various meets and Most Outstanding Female on various occasions. Upon graduation, she moved to Johnson City with a full running scholarship to East Tennessee University and eventually earned a Bachelor's degree in social work.
Tanya is currently employed as a social worker who deals with sexually and physically abused children. Her previous employment includes work with children in therapeutic foster care, high school counselor and customer service representative for a major credit card company. She enjoys running, kayaking, rock climbing and shopping. She is a huge football fan, especially of the Tennessee Volunteers.
Tanya is currently single and living in Gray, Tennessee. She is a member of the Children's Advocacy Center Council and the Tennessee Conference of Social Workers. She is certified in First Aid/CPR. Her birth date is November 29, 1974.[1]
Survivor
Tanya Vance was selected over Erin Collins by Jan Gentry to be on Chuay Gahn. Although she didn't want to be the last person picked, she preferred to be on the younger Sook Jai. This was because she felt that she couldn't relate with her older teammates. Tanya very quickly got dehydrated and started vomiting. This prompted the tribe to search for its water source. John Raymond and Helen Glover were the first people to find the water source. John decided to mess with the tribe. Although most of the tribe was amused, Ghandia Johnson was not amused by the prank. At the first Immunity Challenge, Chuay Gahn initially had the lead. The lead evaporated because of Ghandia's struggle on the last puzzle. This allowed Sook Jai to win the challenge. Helen noted should Tanya be voted out, it would be because they feel sorry for her. Tanya decided to vote against John for his attempts to take leadership. He was the one voted out in a 6-1-1 vote over Ghandia and Clay Jordan.
The next morning, Tanya laughed at Clay's snoring. Chuay Ghan was generally getting along with one another. Tanya and Ghandia picked flowers for Helen in honor of her 20th wedding anniversary. Tanya was the guide for Chuay Ghan in the Reward Challenge. Unfortunately, Sook Jai won once again. The tribe tried not to let the loss get to them. That night, the tribe surprised Helen with a song and gifts. The next morning, Clay discovered squid all over their beach, which became breakfast. Sadly, Chuay Ghan lost the Immunity Challenge again. Despite being well-liked, Tanya was voted out in a 5-2 vote due to concerns about her health. 
Voting History
Tanya's Voting History
Episode
Tanya's
Votes
Voted Against
Tanya
1
John
-
2
Helen
Brian, Clay,
Helen, Jan, Ted
Voted Out, Day 6
Post-Survivor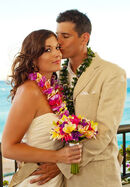 During the last days of filming, Tanya received a call from her mother saying her father had died. Her father had been estranged from the family, but when Tanya's sister threw her a good-bye party before leaving for Survivor, her father was there.
In 2003, Tanya was one of several castaways who appeared on MTV's Men vs. Women: Rumble in the Jungle, a preview show for Survivor: The Amazon and offered her commentary in the debate of which gender was stronger.[2]
Tanya now works as a pharmaceutical representative.
On January 9, 2010, Tayna attended Survivor's 10-year anniversary party.
Tanya married Joseph Lucazj on July 4, 2010.[3]
Trivia
Tanya's luxury item was a hairbrush.
Tanya was the youngest member of the Chuay Gahn tribe and the only member in their 20's at the time of filming.
In 2014, Tanya was nominated for The Ozcars in the "Best Second Boot" category. She won by popular vote, beating Billy Garcia and Russell Hantz.
References
Community content is available under
CC-BY-SA
unless otherwise noted.