This article on Survivor Wiki is a stub.
which means that we're lacking/missing some information.
You can help the wiki by expanding it.
Robinson Ekspeditionen is a Danish reality-based competition television show.
The Danish version is produced by TV3, it is currently aired at 8pm during Mondays.
History
Format variations
While the Danish version introduced the standard Survivor format in most seasons, many seasons introduced several game-changing twists to keep the contest exciting and fresh.
Division of tribes
Most seasons of the Danish Robinson Ekspeditionen is split out in ordinary tribes picked by the producers. However, there has been changes in the divisions of the tribes. Many of those has been criticized by the audience, which caused the show to go on hiatus for a year between 2011-2013.
The following seasons has an un-ordinary division of tribes:
Robinson Ekspeditionen 2009

, where the tribes were split up in a 'Stupid Tribe' and a 'Dumb Tribe'. This was later revealed to not be true, and the tribes were dissolved and re-assembled.

Robinson Ekspeditionen 2010

, where all contestants had to fight for their spot in the game. Five winning men were on the "Masters' Tribe" and the five winning women on the "Mistresses' Tribe". The masters and mistresses had to pick five slaves, male picking woman slaves and vice versa. Four people who didn't make it to the game were sent to the Redemption Island, Utopia. The slaves had no right to vote and had to follow their masters or mistresses orders.
Recurring themes
Tribe switch and dissolves
Main Article: Tribe Switch and Tribe Dissolve.
Merge
"Ghost Tribe"
Redemption Island
Hidden Immunity Idol
Final Challenge
Instead of a jury, the final three contestants participate in a Final Challenge. This is usually a huge challenge, mixing together most of the other challenges from throughout the season.
=The Plank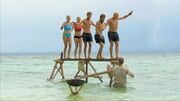 The Plank is a recurring challenge in Robinson Ekspeditionen. It requires the contestants to stand on a plank or pole for as long as possible. It usually appears as one of the last challenges in a season. In 2014, the Final Challenge was instead The Plank, which created a lot of controversy among the fans.
Death Battle
From 2015 and forward, the Death Battle has been a recurring twist. In 2015, it was known as "partner battle". The rules vary, but it is generally one or more contestants from each tribe fighting in a challenge. The reward for winning and penalty for losing varies as well.
Teams of Individuals
From 2016 and forward, the merge was replaced with a twist to the tribes. The two teams now acted as two individual merged tribes. They competed against each other for immunity, and the losing tribe would then fight in a challenge for Individual Immunity and go to Tribal Council. Because of this, the actual merge would appear much later than usual.
Seasons
Season
Host
Contestants
Winner
1998

Thomas Mygind

16
Regina Pedersen
1999
17
Dan Marstrand

2000

16

Sonny Rønne Pedersen

2001

19

Malene Hasselblad

2002

21
Henrik Ørum

2003

22

Frank Quistgard

2004

Jakob Kjeldbjerg

20

Mette Frandsen

VIP

Mikkel Beha Erichsen

15
Tilde Fröling

2005

Jakob Kjeldbjerg

26

Mogens Brandstrup

2006

16

Diego Tur

2007

20

Rikke Gøransson

2008

22

Daniela Hansen

2009
22

Villy Eenberg

2010

25

Søren Engelbret

2011

27

Hugo Kleister

2013
21

Jeppe Bruun Hansen

2014

23

Stina Von Edelstein

2015
24

Kenneth Mikkelsen

2016

27

Henrik Oltmann Andersen

2017

28

Marlene Berardino

2018
27
Jamil Faizi
2019
22
Nis Andreas Prio Sørensen
See also
References