Robert Carlo "Rob" Mariano (also known as Boston Rob) is the Sole Survivor of Survivor: Redemption Island. He originally competed on Survivor: Marquesas, Survivor: All-Stars, and Survivor: Heroes vs. Villains, and later on Survivor: Winners at War. Rob also returned as a mentor for Survivor: Island of the Idols.
The series' first five-time contestant, Rob is regarded as one of the smartest and most devious contestants in Survivor history, and is renowned for his charismatic leadership, challenge prowess, and cutthroat strategy.
In Marquesas, Rob found himself in control of his original Maraamu tribe, before losing control after the tribe switch. Afterwards, he formed a rivalry with John Carroll, who was at the helm of the Rotu tribe. He was the first one voted out after the merge, due to his attempt to throw the majority Rotu Four alliance under the bus.
In his return in All-Stars, he played a more aggressive and cutthroat game. He formed a close alliance and relationship with Amber Brkich early on, with the two eventually gaining control over the Chapera Alliance. However, numerous double dealing, most notably reneging on his promise to Lex van den Berghe to protect him after the latter saved Amber upon Rob's request, caused an embittered jury to resent him. Both he and Amber made it to the Final Two, where his vicious gameplay caused him to lose to her in a close 4-3 vote. Their relationship continued after the show and they ended up getting engaged at the live Reunion Show when Rob proposed before the votes were read. Their relationship has since transcended to marriage.
In Heroes vs. Villains, he developed a rivalry with Russell Hantz for control of the Villains tribe early on. Despite leading the majority Villains alliance, after his ally Tyson Apostol switched his vote, resulting in his elimination, Rob's alliance crumbled as his ally Jerri Manthey turned on him and joined Russell's alliance and another ally Coach Wade decided to stay neutral, resulting in Rob being voted out at the following Tribal Council.
Rob and Russell's rivalry eventually led to their return in Redemption Island, where he played one of the most dominant games of all time. His control over the Stealth R Us alliance was unmatched and he dominated in challenges. His dominant gameplay, combined with the jury's disdain towards fellow finalists Natalie Tenerelli and Phillip Sheppard, finally awarded Rob the title of Sole Survivor after 117 days and 4 seasons.
Rob returned along with Amber as one of twenty winners competing in Winners at War. On the Sele tribe, he formed an alliance with fellow old-school winners Ethan Zohn, Parvati Shallow, and Danni Boatwright, though they were outnumbered by an alliance of new-school players. After a tribe switch where he joined the new Yara tribe, Rob's position worsened after he attempted to re-use his "Buddy System" strategy from Redemption Island, much to the ire of his new tribemates, and was unanimously voted out. He became a member of the jury for the first time in his Survivor career after failing to win both re-entry challenges from the Edge of Extinction, eventually placing 17th.
While Rob has been considered one of the best players ever by host Jeff Probst and many fans, there are many who criticize him for taking four attempts to finally win and having an enormous and unfair advantage in Redemption Island for being a four-time player. Rob is the most prolific Survivor player, having spent 152 days in the game across five seasons as an active contestant.
Profile
Retrieved from CBS.com
Survivor
Marquesas
Mariano was initially lambasted for not doing much at Maraamu camp despite his physique but he made a strong alliance with Sarah Jones, Vecepia Towery, and Sean Rector. When Maraamu suffered three consecutive Immunity Challenge losses, the pact targeted weak link Patricia Jackson first on Day 6, while eventually turning to Hunter Ellis, the tribe's de facto leader and perceived strongest member. After Hunter's elimination, Rob assumed the leadership position at Maraamu, but it was short-lived when he was swapped (along with Sean and Vecepia) to Rotu after a tribe switch on Day 10.
After the switch, the four-person alliance crumbled. After Sarah's elimination (she was left at Maraamu, which lost yet again), the four original members of Rotu decided to gang up on the new members because they felt that Sean and Rob took their poor work ethic at their camp, while Vecepia was castigated as preachy and pretentious. After losing the Day 15 Immunity Challenge, the original Rotu members planned to vote Rob out first, but it was their fellow original member Gabriel Cade's apathetic approach toward the game that changed their minds. Rob was spared thanks to John Carroll's lobbying, and Cade was eliminated instead.
After Rotu's first Tribal Council, Rob confronted the original members to confirm if they had an alliance. With nobody giving an impressive answer, Rob lashed out at them, but John halfheartedly stated that they would vote Kathy Vavrick-O'Brien, Paschal English, and Neleh Dennis (fellow original Rotu members, but switched at Maraamu) first. Despite the tension, Rob led Rotu to a comeback by winning the Day 18 Immunity Challenge.
On Day 19, Rob volunteered to be Rotu's ambassador for the merge summit, where he tried to turn Maraamu's ambassador, Kathy, against her former comrades by telling that Zoe Zanidakis (a perceived friend by Kathy) was plotting against her. When the tribes were officially merged, Rob tried to throw the Rotu Four alliance under the bus by initiating a conversation about the foursome wanting to get rid of Kathy. Despite his valiant efforts, Rob's scheming sent him packing in a 7-2-1 vote (with votes coming from the Rotu Four alliance, Neleh, Paschal, and Rob's ally Vecepia).
Voting History
Episode
Rob's
Votes
Voted Against
Rob
1
Peter
-
2
Patricia
-
3
Hunter
-
4
Rotu Tribe Immune
5
Gabriel
Gabriel
6
Rotu Tribe Immune
7
John
John, Neleh, Paschal,
Robert, Tammy, Vecepia, Zoe
Voted Out, Day 21
All-Stars
"

She's beautiful; any idiot can see that.

"

–Boston Rob (on Amber)
Boston Rob was one of the eighteen returning contestants in Survivor: All-Stars and was placed at the red Chapera tribe. In the beginning, Rob quickly made an alliance with tribemates Amber Brkich (which gradually turned into romance), Tom Buchanan, and Alicia Calaway. Rob led the Chapera tribe into a winning streak, winning four of the first six challenges, making Chapera the most dominant of the three competing tribes of the season. When Chapera finally lost immunity on Day 11, Rob orchestrated Rob Cesternino's elimination.
After a twist dissolved the rival Saboga tribe, Rob recruited the two new additions, Rupert Boneham and Jenna Lewis, to his alliance. Any strategizing was put on hold for several days, as Chapera won the next three Immunity Challenges.
After a surprise tribe switch on Day 22, all Chapera members minus Amber, who remained with Chapera, were swapped to the Mogo Mogo tribe, to Rob's disappointment. With Amber's absence, Rob fortified the alliance with Tom and Alicia. After winning the next Immunity Challenge, Rob sensed Amber was in trouble, so he proposed a deal with Lex van den Berghe, a friend of Rob's outside Survivor to spare Amber, in exchange for his safety. After much deliberation, Lex, along with the remaining former Mogo Mogo members, disposed one of their own, Jerri Manthey.
When the tribes merged on Day 26, Lex approached Rob if their deal was still in effect. Much to the former's chagrin, Rob had reneged on his promise, sending him home. The former Chapera members then eliminated the former Mogo Mogo Kathy Vavrick-O'Brien, Rob's fellow Marquesas cast member. With the last Mogo Mogo, Shii Ann Huang immune, the Chapera alliance was forced to turn on each other. But after promising not to write her name down earlier, Rob swerved Chapera's votes to Alicia's direction, eliminating her. Shii Ann failed to win the next Immunity Challenge and soon followed.
On Day 35, Rob won the Reward Challenge, winning himself a car and a drive-in film viewing experience to watch the original 1963 version of Lord of the Flies. He chose Amber to join him, only to find out Amber would receive a car as well. Returning to camp, Rob was suspicious that Tom and Rupert plotted against him and Amber during their absence, and as a solution, he pitted the two against one another. After winning the next Immunity Challenge, Tom was torn between two duos, Rob and Amber, and Rupert and Jenna. Rob and Amber assured Tom they were on his side, and they would vote out Jenna together. But much to Tom's surprise, he was blindsided by a unanimous vote, but not before leaving Tribal Council and giving Rob a piercing stare.
On Day 37, anticipating a tied vote between himself and Amber and Rupert and Jenna, Rob lobbied Jenna to eliminate Rupert, stating he was a threat to collect more jury votes. Threatened by the possibility of a rock drawing tiebreaker, Jenna sided with Rob and Amber, sending Rupert home. After winning the Final Immunity Challenge, Rob chose Amber to join him in the Final Two, sending Jenna to the jury.
On Day 39, Rob and Amber enjoyed romantic moments. At the Final Tribal Council, Rob was chastised by several jury members for his numerous deception. Ultimately, Rob lost the title of Sole Survivor to Amber after a 4-3 vote. Just before the votes were read at the Reunion, Rob proposed to Amber, to which she said yes.
Voting History
Episode
Rob M.'s
Votes
Voted Against
Rob M.
1
Chapera Tribe Immune
2
Chapera Tribe Immune
3
No Tribal Council
4
Rob C.
-
5
Chapera Tribe Immune
6
No Tribal Council
7
Chapera Tribe Immune
8
Chapera Tribe Immune
10
Mogo Mogo Tribe Immune
11
Lex
Individual Immunity
12
Kathy
Individual Immunity
13
Alicia
-
14
Shii Ann
-
15
Tom
Individual Immunity
16
Rupert
Rupert
Jenna L.
Individual Immunity
Jury Votes
for Rob M.
Jenna L., Kathy, Rupert
Runner-Up, Day 39
Heroes vs. Villains
"

If these people are smart, they'll get rid of me right away! But they won't. They never do.

"

–Boston Rob
Assigned to the Villains tribe following his All-Stars appearance, Rob quickly became the de facto leader and helped his tribe achieve success, building fire without the aid of a flint by making a fire saw, and won the first Immunity Challenge for the Villains, thanks to his superb puzzle-solving skills.
The next day, as Rob was infuriated by his tribe's poor work ethic, he walked to the woods and collapsed later. Tribemate Jerri Manthey found him unconscious in the jungle, prompting the Survivor medical team to intervene. When the medics found nothing to worry about, they cleared him to continue competing. Rob then led the Villains to another victory, winning them their second straight challenge. Despite his strong work ethic and popularity within the tribe, he gained an enemy in newcomer Russell Hantz.
Rob then formed the majority alliance of six on the Villains, that was up against Russell's alliance of himself, Parvati Shallow, and Danielle DiLorenzo.
At the Day 15 Double Tribal Council, Rob won individual immunity. His alliance planned to split the votes 3-3 against Russell and Parvati, and if someone played the Hidden Immunity Idol then the votes wouldn't count, and then a re-vote would occur and his alliance would vote out the non-protected player. However, Russell persuaded Tyson Apostol to switch his vote to Parvati, and Russell played his idol on her, thus eliminating Tyson, Rob's closest ally.
Despite still having the numbers in the tribe, Rob's alliance began to crumble. When Jerri switched sides to Russell's alliance and Coach Wade insisted on voting off the tribe's weakest link Courtney Yates, Rob was voted out 4-3-1.
At the Reunion, the feud between Russell and Rob was mentioned and would later be settled a year later in Survivor: Redemption Island.
Voting History
Episode
Rob's
Votes
Voted Against
Rob
1
Villains Tribe Immune
2
Villains Tribe Immune
3
Randy
Randy
4
Villains Tribe Immune
5
Villains Tribe Immune
6
Russell
Individual Immunity
7
Russell
Danielle, Jerri,
Parvati, Russell
Voted Out, Day 18
Redemption Island
Unlike his nemesis Russell Hantz, Rob was warmly received by his tribe. It didn't take him long to be accepted into an alliance, which consisted of Andrea Boehlke, Matt Elrod, Grant Mattos, Natalie Tenerelli, and Ashley Underwood. His first target was Kristina Kell, who was looking for the Hidden Immunity Idol. They decided to split the vote between Kristina and Francesca Hogi when Ometepe lost the first Immunity Challenge. At that Tribal Council, Rob saw an opportunity to manipulate Phillip Sheppard, who was a loose cannon. Phillip's vote would break the tie and send Francesca to Redemption Island. When Ometepe lost the second Immunity Challenge, Rob made a deal with Phillip that he would protect him and welcome him into the Ometepe alliance if he followed the plan and acted as if he was getting voted out, but he told Phillip that he was not going home. Rob and the Ometepe alliance then blindsided Matt, a member of their own alliance. They did this because they feared Andrea and Matt would develop into a power couple, very much like Rob and Amber did in Survivor: All-Stars. After Ometepe won the third challenge, they then voted out Kristina, but split the vote with Phillip, just in case she had the idol. Rob then found his own idol when he lied that he had bowel problems and went to look for it. Ometepe then won the remaining Immunity Challenges left until the merge, turning an 8 to 6 disadvantage into a 6-5 advantage pending the result of the final duel.
When Matt re-entered the game as a result of Redemption Island, he decided to keep with Rob despite considering flipping. He was honest in telling Rob he was initially considering flipping on their alliance, which prompted Rob to turn his other allies on Matt, thus sending him back to Redemption Island. The Ometepe alliance then started their Pagonging of the Zapatera tribe, voting off Mike Chiesl, David Murphy, Julie Wolfe, Ralph Kiser, and Steve Wright. During this period, Zapatera tried to target either Rob or Phillip unsuccessfully, with only a few instances of his allies briefly straying from his "Buddy System" strategy. It would be that strategy that caused Natalie to alert Rob that Ashley was considering working with some Zapatera members, which solidified that Rob's optimal endgame scenario would involve Phillip and Natalie.
After Steve was voted out, there was nowhere left to hide, and the Ometepe alliance was forced to turn on themselves. Rob continued to be in control, and he convinced everybody to vote off Andrea instead of Phillip, who he conspired to take to the Final Three with because of his unpopularity with the jury members. Ashley was Rob's next intended target due to her previous albeit minor betrayal of trust as well as her closeness to Natalie. This plan was halted when Ashley won the Immunity Challenge. Rob was forced to eliminate his good friend in the game, Grant, due to his superior strength in challenges to Natalie. Andrea then came back into the game via Redemption Island and was then voted off again by Rob, Phillip, Natalie, and Ashley, who was starting to open her eyes to Rob's gameplay. Rob played his idol as it was the last chance to do so, negating Andrea's vote and forcing Ashley and Natalie to vote for Andrea. Rob had destroyed all other clues or evidence to other idols in the game. Rob then won immunity from the second-to-last Tribal Council, and thus won a spot in the Final Three. Rob then decided to take Phillip and Natalie to the Final Three with him. He believed he could win against them because Phillip was disliked by the jury especially by the Zapatera members, and Natalie had done nothing in the game and around camp, and had just been one of his minions. Ashley, realizing that she was going to get voted off, tried to convince Natalie to vote for Phillip, forcing a tie, but Natalie stayed loyal to Rob, consequently voting off Ashley.
At the Final Tribal Council, Rob delivered his argument to why he should be the Sole Survivor, which was much more developed than Phillip's or Natalie's, which were both very weak. However, he was criticized for being cutthroat and a cult leader, and his potentially creepy relationship with Natalie. Rob raised the stakes by saying that regardless of tonight's result, this would be his last day on Survivor. David lobbied for Rob to get the votes needed to win, citing Rob's gameplay this season as one of the best in Survivor history. Rob then won an easy victory, mastering his strategy and finally becoming the Sole Survivor, only losing Ralph's vote to Phillip, as Phillip said earlier that Ralph was Zapatera's hardest worker. Rob won by an 8-1-0 margin.
Voting History
Episode
Rob's
Votes
Voted Against
Rob
1
Francesca
-
2
Matt
-
3
Ometepe Tribe Immune
4
Phillip
-
5
Ometepe Tribe Immune
6
Ometepe Tribe Immune
7
Ometepe Tribe Immune
8
Matt
-
9
Mike
-
David
David, Julie,
Ralph, Steve
10
Julie
Individual Immunity
11
Ralph
Ralph, Steve
Steve
Individual Immunity
12
Andrea
Individual Immunity
13
Grant
-
14
Andrea
Andrea1
Ashley
Individual Immunity
Jury Votes
for Rob
Andrea, Ashley, David, Grant,
Julie, Matt, Mike, Steve
Sole Survivor, Day 39
Winners at War
Rob returned alongside Amber for a record fifth time for the show's 20th anniversary. He was placed on the Sele tribe, while Amber was on Dakal. At the season's first Reward/Immunity Challenge, Rob and Ben Driebergen beat Tony Vlachos and Wendell Holland to earn one point for Sele, but Dakal ended up winning the challenge, sending Sele to Tribal Council. Fortunately for Rob, his target was defused by Adam Klein and Denise Stapley alienating themselves from the tribe early on. Rob and Parvati Shallow discussed their past together in Heroes vs. Villains and agreed to work together this time. After finding out from Ben that Danni Boatwright was targeting him, he confronted her, but she came clean. Rob, feeling like he could trust her due to her truthfulness, talked to her about working together and brought her into an old-school alliance consisting of himself, Parvati, and Ethan Zohn.
On Day 2, Rob was approached by Ethan, who brought up Adam's idea about targeting Natalie Anderson due to her pre-existing relationship with Jeremy Collins. Rob was open to that and considered himself the swing vote. Prior to Tribal Council, Rob and Parvati talked about how shocked they were that they were not targeted despite their dangerous reputations. At Tribal Council, Rob and his allies sided with Adam and Denise, resulting in Natalie's elimination. In the following Immunity Challenge, Sele fell behind due to Jeremy struggling to get over the barrel roll, but Rob helped him get over (after nearly single-handedly assisting his other tribemates), and Sele ultimately won the challenge. Rob however voiced his concern over not being able to protect Amber while leaving the challenge. The following morning, Rob found a Fire Token in his bag, and his worries that Amber was voted out were confirmed. He believed Sandra Diaz-Twine may have been responsible for Amber's elimination.
On Day 6, Sele lost immunity due to Rob struggling in the puzzle. At camp, Danni approached Rob about voting out Parvati. He lied to her by saying yes, but then stated in a confessional that he was not going to turn on his closest ally. Rob told Ethan and Adam about Danni's plan and that he would like to get Danni out. At Tribal Council, Rob demanded everyone to empty their bags so they could see who had the Hidden Immunity Idol; everybody obliged. Danni became the third person voted out. Sele lost immunity again on Day 9. Wanting to keep Rob in the fold, Adam told Rob about the plan to blindside Parvati. Rob relayed this to Michele Fitzgerald and Parvati and talked to them about blindsiding Adam. While Rob, Parvati, and Ethan voted for Adam, the new-school players minus Adam blindsided Ethan to weaken Rob.
On Day 11, as Adam attempted to perform damage control after being left out of the previous vote, he stonewalled Rob and Parvati when they asked him what the plan was. Regardless, Rob lied that Adam was scheming with him once again, making Jeremy and Michele lose trust and consider voting Adam off next. However, Rob and Michele pulled a come-from-behind victory in the Immunity Challenge, thus keeping Sele from Tribal Council. A tribe switch then occurred on Day 12 . Rob was moved to the new Yara tribe along with Ben and Adam, and were joined by original Dakal members Sarah Lacina and Sophie Clarke. At camp, Rob attempted to find an idol, but failed to find it. After Yara lost immunity on Day 14, Rob, Adam, and Ben agreed to settle their differences and use their numerical advantage to take out Sarah, due to Sophie being needed for her strength in challenges. Rob enforced the "Buddy System" so that Sophie and Sarah had no chance to plot, though this earned him the ire of the rest of the tribe, who did not like that Rob had to be in total control. At Tribal Council, Ben and Adam sided with Sophie and Sarah and blindsided Rob for being too big of a threat. After leaving Tribal Council, Rob bequeathed his Fire Tokens to Parvati and headed to the Edge of Extinction, where he reunited with Amber.
Rob managed to find three tokens during a task on the Edge of Extinction. On Day 19, Rob and the other inhabitants of the Edge competed in the re-entry challenge. Amber gave him her Fire Token, allowing him to purchase one advantage in the challenge and one Hidden Immunity Idol for use if he re-entered the game. Rob took the initial lead; however, Tyson Apostol and Natalie reached the final phase of the challenge shortly after him. Ultimately, Tyson narrowly beat Rob by getting his ball in the hole first. Rob returned to the Edge to await another chance to return to the game.
Rob spent another 15 days on the Edge of Extinction, but attended every Tribal Council as a member of the jury, making this the first time Rob has ever been on a jury in his Survivor career. During one effort task, he fell on one of the rocks, injuring his elbow as a result, which caused the other players to pass him. However, Rob pushed to complete the challenge despite having lost his chance at receiving Fire Tokens, as he refused to quit.
On Day 35, Rob alongside the other Edge of Extinction inhabitants competed in the second and final re-entry challenge. While Rob reached the final part of the challenge quickly without any advantage, he ultimately lost, resulting in his permanent elimination. He was the fourth member of the jury, making this the first time he would be voting for someone to win as a member of the jury.
At the Final Tribal Council, Rob asked Natalie why she isolated the others during her time on the Edge and did not compete against Tony in the fire-making challenge. At the voting booth, he said that Natalie nearly played a perfect game, but fell short because she didn't succeed in eliminating Tony. He cast his vote for Tony to win the title of Sole Survivor, which he did in a 12-4-0 vote.
Voting History
Episode
Rob's
Votes
Voted Against
Rob
1
Natalie
-
Sele Tribe Immune
2
Danni
-
3
Adam
-
4
Sele Tribe Immune
5
Sarah
Adam, Ben,
Sarah, Sophie
Voted Out, Day 14
6
On Edge of Extinction
7
8
9
10
11
12
13
14
Eliminated, Day 35
Voted for
Sole Survivor
Tony
Post-Survivor
A week after All-Stars, Rob was nominated on Survivor: America's Tribal Council in the Sexiest Male category, but lost to Colby Donaldson.
On January 9, 2010, Rob attended Survivor's 10-year anniversary party along with all of his Heroes vs. Villains castmates.[7]
Rob was inducted into Xfinity's Survivor Hall of Fame in 2010.
In February 2010, Rob appeared on Late Show with David Letterman as Top Ten List Presenter #6 along with nine of his Heroes vs. Villains castmates.[8]
In the fall of 2010, Rob appeared in a "Stand Up 2 Cancer" commercial along with Colby Donaldson, Ethan Zohn, Parvati Shallow, and Rupert Boneham.[9]
Rob was a co-host on The History Channel TV series Around the World in 80 Ways, which first aired on October 1, 2011. Rob, along with professional monster truck driver Dennis Anderson, traveled around the world using 80 various forms of transportation.[10]
At the Caramoan Reunion Show, Rob announced the release of his book "The Boston Rob Rulebook", containing his strategies for Survivor and his life and presented the first copy to his former Redemption Island tribemate Phillip Sheppard. Rob stated that Phillip's constant reference to him partly inspired him to write the book.
Rob, along with eight other former castaways competed on a Survivor edition of The Price Is Right primetime special that aired on May 23, 2016.[11] Rob and his partner, Alysse, lost their pricing game and failed to make the Showcase.[12] While spinning the wheel, Rob made a shout-out to Amber and their children.
Rob appeared in the season finale of Secret Celebrity Renovation.[13]
Marriage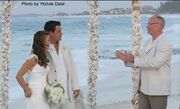 The Amazing Race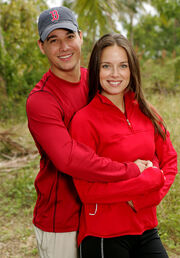 In late 2004, Rob and Amber competed on the seventh season of The Amazing Race as an engaged couple. The couple won four individual legs but ultimately finished the race in second place.
Rob and Amber attended the wedding of fellow The Amazing Race​ team Ray Hosteau and Deana Shane on May 21, 2005.[21]
In late 2006, Rob and Amber returned as newlyweds in the first Amazing Race: All-Stars, where they won the first three legs, but were eliminated on the fourth, finishing in eighth place.
Trivia
Rob's luxury item on Marquesas was an American football.
Rob is the youngest man of the original Maraamu tribe.
Rob, along with Sean Rector and Vecepia Towery, are the first castaways to be on a tribe with every member of the cast of their season at one point.

Rob, Sean, and Vecepia are the only ones to do so in a season with only two pre-merge tribes.

In Marquesas, Rob was the first castaway to be voted out after switching tribes, and the only person to switch tribes and not make the final five.
Rob and Shii Ann Huang are the first castaways to return for a second season despite not reaching the jury stage in their original season.
In both All-Stars and Redemption Island, Rob won the most individual Immunity Challenges in the season, with 4 in both seasons. In All-Stars, Rob was the only person to win individual immunity more than once.
Rob is the first returning player to compete on four seasons. He is also currently the only five-time returning player in the U.S. version of the show.

Counting his role in Island of the Idols, Rob is the first contestant to participate in some form in six different seasons of Survivor.

Rob is the first of three people to win at least one individual Immunity Challenge in three separate seasons. He would be followed by Andrea Boehlke and Jeremy Collins.
Rob is the first castaway to reach the Final Tribal Council twice, but not do so in back-to-back seasons they participated in.
Rob is the only losing finalist to win the game on a later season.
Rob is the first male castaway to win a season as a returning player.
Rob is the first and only man and the only returning player to win a season with one returning player per tribe.
Rob lost 30 lbs. during his time on Redemption Island.[22]
On the first four seasons that Rob competed, the tribe he started out at produced the eventual Sole Survivor.
Rob holds the record for most individual immunity wins in his Survivor career, winning nine individual Immunity Challenges over his five seasons.
Rob also holds the record for most tribal Immunity Challenge wins, with 18.
Winners at War is Rob's only season in which he was a jury member.
With 152 days accumulated over his Survivor career, Rob has played the most days of all returning players.
Rob lost 34 lbs. during his time on Winners at War.[23]
References