Story
Mike was revealed to have enough votes to be selected for Survivor: Cambodia, but was rendered ineligible by winning this season.
Carolyn expressed she was surprised she didn't get more jury votes.
Dan and Rodney were criticized by Probst for their sexist comments.
Will was criticized for his verbal yelling at Shirin.
Jeff gave a belated birthday cake to Rodney and the entire cast and audience sang "Happy Birthday" to Rodney.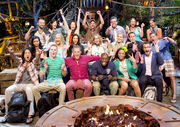 The cast for Survivor: Cambodia was revealed. Of the 31 players still eligible, Kelly, Jeff, Kimmi, Andrew, Terry, Peih-Gee, Stephen, Monica, Abi-Maria, Ciera, Vytas, Kass, Spencer, Tasha, Woo, Jeremy, Keith, Kelley, Joe, and Shirin were chosen to compete in the "Second Chance" season.
Carolyn and Max from this season were also on the "Second Chance" ballot, but (along with Mike) did not receive enough votes to participate.
Other players not chosen to participate were Teresa Cooper, Shane Powers, Natalie Tenerelli, Stephanie Valencia, Jim Rice, Mikayla Wingle, Sabrina Thompson, Troyzan Robertson, and Brad Culpepper.
Trivia
Brad and Troyzan would eventually return as contestants and finish as first and second runners-up respectively in Survivor: Game Changers.
References
Community content is available under
CC-BY-SA
unless otherwise noted.