Matty Whitmore is a contestant from Survivor: Gabon.
As the only original Fang tribe member to stay on the physically weaker tribe for the duration of the pre-merge, Matty was kept around for his strength in challenges. After the merge, however, Matty's Fang Alliance was able to take control of the Nobag tribe, eliminating the members of the rival Onion Alliance. A failed split vote orchestrated by Crystal Cox and Ken Hoang at the final seven, however, fractured the Fang Alliance and led to Matty closely working with Sugar Kiper. At the final four, Sugar's inability to make a game-changing decision forced a tie between Matty and Bob Crowley. He would be eliminated just one day before the Final Tribal Council after losing the fire-making tiebreaker to Bob.
Profile
Retrieved from CBS.com
Matty Whitmore (29)
Hometown: Pacific Palisades, California
Occupation: Personal Trainer
Matty Whitmore knows first-hand what it's like to have a lot and what's it's like to lose it all. At the age of 18, Whitmore inherited a trust fund from his grandparents, allowing him to live a comfortable life in paradise until partying it all away. Now at the age of 29, Whitmore wants the opportunity to find out what he's capable of doing on his own and believes Survivor holds the answer.
Whitmore currently works as a personal trainer on the westside of Los Angeles and enjoys teaching health and wellness. His idea of a perfect day includes a two-hour vigorous workout, training clients and a surf session, followed by an hour in the sauna and yoga. The remainder of his day is spent hanging out with his long-time girlfriend, Jamie, and his beloved dog, Dink. He claims that if health was wealth; he'd be considered a billionaire.
Not only does Matty have physical ability and strength, but he also possesses bravado and confidence. He brings knowledge of the outdoors and social skills to the game and can't wait to gain more self-awareness through this experience. Whitmore prides himself on helping people not take themselves too seriously and hopes to use those skills to manipulate others into doing what's best for him.
He currently lives with his girlfriend in Pacific Palisades, Calif. His birth date is December 18, 1978.[1]
Survivor

This section is empty. You can help by adding to it.
Voting History
Matty's Voting History
Episode
Matty's
Votes
Voted Against
Matty
1
Michelle
-
Gillian
-
2
Fang Tribe Immune
3
Jacquie
-
4
GC
-
5
Kelly
-
6
Crystal
-
7
Fang Tribe Immune
8
Charlie
-
9
Randy
-
11
Corinne
Bob,
Corinne, Ken
12
Crystal
Crystal, Ken1
13
Ken
-
Bob
Bob, Sugar2
Voted Out, Day 38
Voted for
Sole Survivor
Susie
Post-Survivor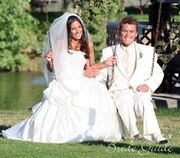 On June 6, 2009, Matty got married to Jamie Mass, whom he proposed to during the Family Visit in Gabon.
On January 9, 2010, Matty attended Survivor's 10-year anniversary party along with all of his Gabon cast mates.
Trivia
Matty is the grandson of actor James Whitmore.
Matty was recruited to compete on Survivor when he met a casting agent at a Whole Foods Market with his girlfriend in Santa Monica. Before being cast, Matty had rarely watched Survivor.[2]
Matty is the only original Fang member to remain on Fang during both tribe switches.
Matty proposed to his long-term girlfriend, which she accepted, while in Gabon during the Family Visit. He carved a ring out of wood and put it on a necklace, which he put around her neck when she accepted. She was wearing the necklace at the Reunion Show.
Matty lost about 17 lbs. during his time on Gabon.[3]
References
Community content is available under
CC-BY-SA
unless otherwise noted.