Julie Catherine Berry[1] is a contestant from Survivor: Vanuatu.
A member of the Yasur Alliance, Julie is best remembered for attempting to make a counter-alliance with public enemy Chris Daugherty to eliminate Twila Tanner. However, this backfired, as Chris chose to align with Twila and Scout Cloud Lee, eliminating Julie in 5th place.
Profile
Retrieved from CBS.com
Julie Berry was born in Lewiston, Maine. She was adopted and separated from her only biological sibling when she was 5 years old. She grew up in Gorham, Maine, with a very intellectually stimulating and expansive family who encouraged individuality and creativity. Her parents, Judy and Les, have been happily married for more than 30 years. Her brother, Chris, recently celebrated his one-year anniversary with his wife, Kate, and has just passed the bar exam.
Berry received a Bachelor of Science degree in Family and Community Development with a minor in Psychology from East Carolina University in North Carolina. Her junior year, she traveled to California through the National Student Exchange to attend school at California State University at Northridge. A Native American, Berry is from the Maliseet tribe and is a member of the East Carolina Native American Organization. Previously, she worked as a behavioral interventionist for children who are also adopted and facing social and emotional issues. She plans to further her studies by pursuing her Masters in Counseling.
Very recently, Berry was reunited with her biological sister and considers it the most magical and important experience of her life.
Berry describes herself as restless, playful and reflective. Traveling has become her ultimate experience. Currently single, she resides in Gorham, Maine. Her birth date is December 15, 1980.[2]
Survivor
After the welcoming ceremony, Julie was placed on the all-female Yasur tribe. The women started off on the wrong foot when Scout Cloud Lee wanted to stop and rest. Eventually, the women found the camp that night. The next morning, the women went to work at camp. Julie would often talk to the young women: Eliza Orlins, Mia Galeotalanza, Dolly Neely, and Lisa Keiffer were also in the group, despite being older than all of them. Twila Tanner felt the girls should be working. Scout viewed them as "bowheads" and cattle. At the first challenge of the season, the women won because Chris Daugherty couldn't cross the beam. The women also won the Reward Challenge, and the comfort that came with it. However, the women were divided by youth and work ethic. Dolly was friends with everyone and wanted to look out for their best interests. The women lost the Immunity Challenge. The younger women wanted Twila out for her abrasive personality. However, Dolly shifted the target to Leann Slaby. At Tribal Council, Julie was shocked when Dolly was sent home.
Julie and Mia questioned Eliza on why she voted against Dolly. She said that she lost trust in Dolly. Eliza apologized for her actions. The girls warily accepted her back in. The next challenge was for both immunity and reward. However, immunity was individual as both tribes had to go to Tribal Council. Yasur lost the Reward Challenge, forfeiting the chance to win immunity. However, John Kenney would stay with the women to give one of them immunity. John gave immunity to Ami Cusack to avoid messing up the intended elimination. Lisa flipped and Mia was voted out for her temperamental personality. Yasur won the Reward Challenge. A local bushman came to Yasur, to help show all of the hidden food at the camp. Eliza led the women to an immunity win as well.
Local Vanuatu men came to Yasur beach, asking for a tribe chief. The women select Scout as she was the oldest and the wisest. Before the Reward Challenge started, a tribe switch happened. Scout placed Julie with Chris. They were joined by Chad Crittenden, Twila, and John. Lea Masters decided to make Julie's group the new Lopevi. Lopevi went on a winning streak, winning the next four challenges. During this time, Julie used her charm and body to her advantage. She even got Lea to show his butt on the beach who Chris made an alliance with to the final four. Using the information, Julie got Twila on her side because Lea made her the same deal. Everyone was getting annoyed with John's poor work ethic. At the Reward Challenge, Julie was amazed that Rory Freeman was still there. Yasur finally broke Lopevi's winning streak. Rory won the Yasur tribe immunity. Chad didn't trust Julie. John tried to lobby against Chad because he was biggest threat to win the game. John was unanimously voted out.
Lopevi won milk, cookies, and a big chocolate cake. At the Immunity Challenge, the tribes merged. At the individual Immunity Challenge, Julie was lagging behind in the challenge. After the challenge, a feast awaited them at the camp. Julie and Ami were spending a lot of time together. That worried Lea very much. Julie and Twila deemed it in their best interests to go with the women and vote out Rory. At the first individual Reward Challenge, Leann won and brought Julie with her. The women discussed strategy and solidify an alliance between them and Ami. They brought back chicken wings for the tribe. The women ate all of the wings, leaving the men with just the wings tips. Unaware of what happened, the men were thankful to have something to eat. Julie came close to winning to immunity, but she botched up the puzzle. Lea and Chad were quickly disposed of.
The next challenge was the Loved Ones Challenge. Julie saw her best friend, Justin. Julie didn't win either one. Leann didn't feel that Eliza deserved to stay in the game over Chris. Twila used the chance to make a counter-alliance with Scout, Chris, and Eliza, blindsiding Leann. The next Reward Challenge was for a car, where the runners-up would join the winner. Julie was barely beaten out by Chris. At the Immunity Challenge, Julie fared well but Chris won. Julie was the only one to vote with Ami. The next Reward Challenge was the Second Chance challenge. Julie defeated Twila to win a horseback ride to the top of Mt. Yasur and a feast of hotdogs and drinks. Julie felt that no one else would take her. She picked Chris to join her because she would have the most fun with him. This was also to get him on her side. She proposed that she, Chris, and Eliza band together and vote out Twila and Scout. Chris was tempted by the offer, but kept his options open. At the Immunity Challenge, Julie came very close to winning but Eliza won. Chris was playing both sides, telling Twila and Julie to vote out the other. Ultimately, Chris deemed it in his interest to go with the controversial Twila and weak Scout over the likable Julie and the athletic Eliza. Julie was betrayed at Tribal Council, becoming the fifth member of the jury.
At Final Tribal Council, Julie started crying before she said anything. Julie first said that she isn't asking Twila any questions because she observed all of her antics and tried to get her out many times. She stated that Chris was the only person she gave the chance to hurt her. Julie first asked Chris if their friendship was real. He said it was and voting her out was the hardest decision he made. The second question was when did he started manipulating her. Julie reminded Chris that this was it and she was voting for or against him. Chris said he didn't but did admitted to lying to her and doing her wrong. Appeased by the answer, Julie voted for Chris to win.
Voting History
Episode
Julie's
Votes
Voted Against
Julie
1
Yasur Tribe Immune
2
Leann
-
3
Twila
-
4
Yasur Tribe Immune
5
Lopevi Tribe Immune
6
Lopevi Tribe Immune
7
John K.
-
8
Rory
-
9
Lea
Chad
10
Chad
-
11
Eliza
-
12
Scout
-
13
Twila
Chris,
Scout, Twila
Voted Out, Day 36
Voted for
Sole Survivor
Chris
Post-Survivor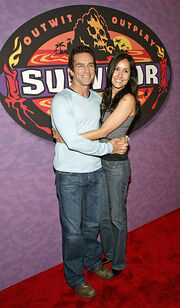 Trivia
References