Jon P. Dalton (commonly known as Jonny Fairplay) is a contestant from Survivor: Pearl Islands and Survivor: Micronesia.
One of the series' most recognizable and polarizing villains, Jon became notorious for his "Dead Grandma" lie, as well as his caustic and cutthroat approach to the game throughout Pearl Islands. He ultimately fell one day short of the Final Tribal Council after he lost the Final Immunity Challenge to Lillian Morris, who voted him out for being a jury threat.
Returning in Micronesia, he was caught in the middle between two alliances, with both alliances believing he was on their side. However, after losing the first Immunity Challenge, Jon asked his tribemates to vote him out so that he could go home and be with his pregnant girlfriend. His tribe honored his wish and voted him out at the season's first Tribal Council.
His deceitfulness and his intense conflicts with tribemates have made him one of the most notorious characters in Survivor history.
Profile
Retrieved from CBS.com
Originally from Danville, Virginia, Jon Dalton attended George Washington High School followed by college at Virginia Polytechnic Institute in Blacksburg. After college, he moved to Washington, D.C. and Portland, Oregon before settling in Los Angeles. He is currently single and most recently worked as a senior art consultant for the Tamara Bane Gallery. He previously worked as a production assistant for a pro wrestler; he also worked in radio ad sales and phone sales. His three favorite hobbies are girls, music and television. He describes himself as sharp, quick and amazing. He is most proud of being the first person in his family to go to college and leave his hometown. His favorite sport is college football. His hero is Hugh Hefner. He believes he's a perfect candidate for Survivor: Pearl Islands because he claims he is "smarter than the average bear" with great organizational skills, leadership ability, has a strong work ethic and doesn't leave things unfinished. His birth date is March 11, 1974.[1]
Originally from Danville, Virginia, Jon Dalton attended George Washington High School followed by college at Virginia Polytechnic Institute in Blacksburg. After college, he moved to Washington, D.C. and Portland, Oregon before settling in Los Angeles.
Dalton burst onto the reality TV scene with the help of his best friend, Thunder D, and the infamous "Dead Grandma" deception on Survivor: Pearl Islands, on which he was the breakout star (and rated as the #2 television moment in E!'s "101 Most Outrageous TV Moments"). He has continued to excel as one of the more memorable faces of reality TV and professional wrestling and signed a contract with TNA Wrestling, combining for the first time the reality television and wrestling genres. He went on to win an ESPY Award for best non-sports sports moment by being body slammed over the top rope by Chicago Bears All-Pro player Brian Urlacher. From Howard Stern to "Tyra Banks," Jack & Ron & Fez to "Living It Up with Allie," Dalton has made numerous memorable radio and TV appearances.
In the reality genre, Dalton has continued to deliver some of the most memorable moments on television. His MTV "True Life" is the highest-rated episode in the history of the series. On "Celebrity Poker Showdown," he "Fairplayed" his longtime friend Trishelle Canatella by eliminating her from the game. On A&E's "Inked" he was kicked out of the tattoo Parlor. On "Reality Stars Fear Factor" he ousted Jonathan Baker and Victoria Fuller and went on to become the first contestant in the history of the show to return after his eviction to serve as co-host. Dalton again shocked the world when he was on the Summer 2005 "Kill Reality," in which he supplied this show with an endless string of memorable moments. He also delivered an inspired performance as DQ in the 2005 motion picture, "The Scorned," which was spawned from "Kill Reality." All these memorable appearances have resulted in Dalton receiving The Most Memorable Reality Star in the History of Reality Television honor at the Really Awards on Fox Reality.
Dalton's birth date is March 11, 1974.
[2]
Survivor
Pearl Islands
"

...then you have Jonny Fairplay, who's completely despicable. It was actually fun to work with Fairplay on the show because he's a producer's dream. When he shows up drunk or flips somebody off, he's bringing you gold every time. I wish we had a Jonny Fairplay every season. Personally, however, he's an absolute jackass whose actions at the Vanuatu finale after-party pissed me off so much that he's banned from any event that I'm at from now on. I'm done with Jonny Fairplay.

"

–Jeff Probst (on Jonny Fairplay)
Jon was a member of the Drake tribe, where he was known for his frequent clashes with tribemates Shawn Cohen and Sandra Diaz-Twine. The Drake tribe ultimately threw the fourth Immunity Challenge on Day 12, causing Jon to backstab his close friend and ally Burton Roberts. At the next Immunity Challenge, which was where both tribes had to eat blended-up delicacies of disgusting foods, Michelle Tesauro, who had no trouble eating the food, was instructed by Drake to appear as if she had trouble downing the food so that Morgan would pick her for the tiebreaker, which would help Drake win. However, Michelle did not go along with the plan, ultimately costing Drake the immunity win after they picked Sandra in the tiebreaker. An annoyed Jon flipped over the camera and stated that it was what he thought of Michelle's ego and Michelle was voted out. Drake lost a third straight Immunity Challenge, and Jon, along with tribemate Trish Dunn voted for Rupert Boneham, but Trish left 4-2. An angered Rupert argued with Jon, knowing that Jon had voted for him and was so angry Rupert said in a confessional he wanted to kill him. The two men, however, made amends. Both tribes learned of the Outcasts twist, and were ultimately beaten by The Outcasts at the Immunity Challenge. Jon voted out his rival Shawn, much to his glee.
Jon then had a close alliance and friendship with Burton after his return to the game, despite Jon backstabbing him.
At the final seven, Jon committed the move that he would be famous for in Survivor history. Jon's friend Dan arrived to accompany Jon at the Loved Ones Challenge and informed him that his grandma was dead, and his grandma was his original choice to come to the island. Out of sympathy, the other members of the Balboa tribe (except for Sandra) decided to let Jon win reward so that he could get more information on his grandmother's death. Unbeknownst to the six of them, it was a pre-planned move orchestrated by Jon before his arrival to the island and his grandmother had been, in fact, alive and well.
The closeness of Burton and Jon eventually caused Burton's demise at the final five after the women were able to plot against the two after Burton took Jon along after winning a Reward Challenge. Jon, knowing he was the next to go at the final four, managed to save himself an additional three days by exposing that Darrah Johnson nor Sandra had any intentions on taking Lillian Morris to the Final Two and that Lillian was a jury threat due to her ability to play the "sympathy card", causing a rift between the women. At Tribal Council, Darrah was voted out 3-1.
At the final three, Jon once again found himself vulnerable after losing the Immunity Challenge. Ultimately, he was voted out by Lillian at the following Tribal Council due to Lillian being touched by Sandra's motivation of providing for her family.
At Final Tribal Council, he gave his jury vote to Sandra, who won in a 6-1 vote.
Voting History
Episode
Jon's
Votes
Voted Against
Jon
1
Drake Tribe Immune
2
Drake Tribe Immune
3
Drake Tribe Immune
4
Burton
-
5
Michelle
-
6
Rupert
-
7
Shawn
Shawn
8
Andrew
Andrew, Darrah,
Ryan O., Tijuana
9
Ryan O.
-
10
Rupert
Sandra
11
Tijuana
-
12
Christa
-
13
Lillian
-
14
Darrah
-
Ineligible
Lillian
Voted Out, Day 38
Voted for
Sole Survivor
Sandra
Micronesia
Jon returned as part of Malakal, the tribe of returning players who would compete against Airai, the tribe of die-hard Survivor fans. At the first individual Immunity Challenge on Day 1, where tribes were to retrieve an individual Immunity Idol (which would protect its wielder the first time their tribe goes to Tribal Council), Jon found the other tribe's idol, which was tied at the bow of a boat. Realizing his mistake, he rushed to the other boat, only to be accidentally tackled by fellow favorite Yau-Man Chan, to his anger. During his three-day stay, Jon's support was sought by two conflicting alliances: a budding "couples" alliance consisted of Parvati Shallow, James Clement, Ozzy Lusth, and Amanda Kimmel; and another foursome consisted of Ami Cusack, Yau-Man Chan, Eliza Orlins, and Jonathan Penner.
During the first tribal Immunity Challenge, the Malakal tribe found themselves to be too confident they would win against the fans, only to lose, in which Jon pointed out during their first Tribal Council. Back at camp, Jon jokingly told Parvati he just got a bottle with a message in it saying his grandmother died, which Parvati laughed at and said "Nice try". Later that night, Jon expressed he was not fully committed to the game because he was thinking about his expectant girlfriend—going as far as to ask his tribe to vote him out. Regardless of the tribe's mixed reactions due to his infamous past as a schemer (e.g. lying about his grandmother's death to win a Reward Challenge), Jonny Fairplay's request was honored by the tribe, and he was voted out in a unanimous vote.
Voting History
Jon's Voting History
Episode
Jon's
Votes
Voted Against
Jon
1
Ozzy
Amanda, Ami, Cirie, Eliza, James,
Jonathan, Ozzy, Parvati, Yau-Man
Voted Out, Day 3
Post-Survivor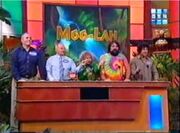 In 2004, Jon appeared in the audience at the Survivor: America's Tribal Council special.
In 2005, Jon appeared as a contestant in a special Castaway Special episode of Family Feud, where he competed with Richard Hatch, Rudy Boesch, Ethan Zohn, and Rupert Boneham. The five competed against Shii Ann Huang, Susan Hawk, Tijuana Bradley, Christa Hastie, and Jenna Morasca.[3]
Dalton dated Michelle Deighton, a fourth season contestant from America's Next Top Model. They had a daughter born in January 16, 2008 which they named Piper Addison Dalton. The two separated in 2011.
He also competed on Fear Factor with Twila Tanner, where they were the second team eliminated. During the second stunt, he was punched by The Amazing Race contestant Victoria Fuller for taunting her. He was also on TNA.[4]
On October 2, 2007, Dalton was involved in an altercation at the Fox Reality Really Awards with former child star Danny Bonaduce. Dalton was booed on stage while speaking to the audience and after asking the audience about this, Bonaduce responded by saying "They're booing because they hate you." As Bonaduce walked away, Fairplay called him back over and jumped on him, only to be flipped over Bonaduce's head, slamming him face first onto the stage floor, resulting in a bloody face and reportedly causing a loss of teeth.[5] The two made up at the 2008 Reality Really Awards, where they poked fun at the incident.
In 2008, Jon appeared on the Canadian show Reality Obsessed.[6]
On January 9, 2010, Jon attended Survivor's 10-year anniversary party.[7]
Fairplay was inducted into Xfinity's Survivor Hall of Fame in 2013.
In February 2015, Jon appeared on the History Channel show Pawn Stars where he sold a signed Red Hot Chili Peppers record for $1,100. He was wearing a shirt that said "I HATE JONNY FAIRPLAY".
On September 3, 2016, Jon married Caryn Finkbeiner.[8]
In March 2017, Jon appeared on Rob Has a Podcast and revealed he is living a healthier lifestyle and has quit drinking alcohol.[9]
Around Easter of 2017, Jon was baptised.[10]
Jon and his wife Caryn Finkbeiner welcomed their first child together and Jon's second child, daughter Madilyn Jane Piper born on May 20, 2017.[11]
Jon currently co-hosts the podcast Survivor NSFW along with Survivor: Caramoan castaway Matt Bischoff.
Jon, along with nineteen other former Survivor contestants, competed in the first Survivor-themed mini-competition of Sequester on May 23, 2020. He was eliminated in the third round, finishing in 18th place.[12]
In December 2020, Jon was arrested for larceny against his grandmother Jean Cook.[13]
Trivia
Jon was recruited by Lynne Spillman at a gas station as revealed in Survivor Oz interview.[14]
Jon was the first castaway to be drunk at Tribal Council, which happened the night where Drake voted out Burton Roberts.
Jon earned the title of "Best Survivor Villain" in America's Tribal Council.
Jon is the first person to receive 9 votes at a single Tribal Council, the most votes received at the same Tribal Council until it was broken by Alina Wilson in Nicaragua.
Jon is one of two castaways to place third in their original season and place twentieth in their second season. The other is Sugar Kiper.

Coincidentally, both were voted out in 9-1 votes in their second seasons.
However, Jon did not make it to the Final Tribal Council, while Sugar did, due to his season being a Final Two season.

According to his profile for Heroes vs. Villains, Randy Bailey stated that Jon was the previous Survivor castaway that he respected the most.
Host Jeff Probst expressed his disdain for Jon in a TV Guide Preview for Heroes vs. Villains, stating that he will not be brought back because "he [Jon] went from a villain to a quitter."[15]
In Pearl Islands, Jon became the first castaway to be the fifteenth person voted out from a season. Due to the Outcast Twist, however, he was only the thirteenth contestant to be permanently eliminated from a season. The first castaway to be the fifteenth person permanently eliminated from a season is fellow Pearl Islands castaway Rupert Boneham in All-Stars.
References