Jaime Nicole Dugan is a contestant from Survivor: China.
Jaime was one of a small handful of Zhan Hu tribe members to make the merge. Her status as a key member of her alliance immediately made her a target. At the first post-merge Tribal Council, she became the first castaway in Survivor history to play an item mistakenly thought to be a Hidden Immunity Idol, resulting in her elimination.
Profile
Retrieved from CBS.com
Born in Fort Lauderdale, Florida and raised in Sunrise, Florida, Jaime Dugan and her family moved to South Carolina when she was 14 years old. She graduated from Spartanburg High School, where she played varsity softball and was the editor of photography for the school yearbook. She is currently a senior at the University of South Carolina, Columbia, on an academic scholarship (she has Dean's List honors), in the School of Journalism and Mass Communications. She is majoring in Public Relations with a minor in Business. Dugan supplements her school schedule working as a waitress.
Dugan's hobbies include cooking, kickboxing and photography. She enjoys wakeboarding, softball, golf and fishing. She favors country and rock music. Her favorite sport is football. She describes herself as friendly, energetic and candid. Her heroes are her mom and dad, who have been together since they were 16 years old. She is a huge University of South Carolina Gamecocks fan (she attends every game) and also a Buffalo Bills fan.
Dugan currently resides in Columbia, South Carolina. She has one sister, Jenna Evon Fay Dugan. Her family has three dogs, Princess Pippi, Oscar Capone and Ottis. They also have three cats, Milo, Jagger and Spitz. Her birth date is June 30, 1985.[1]
Survivor
Jaime Dugan, like her fellow castaways, was upset when she learned that they were starting the game with just the clothes on her back. Jaime was placed on the Zhan Hu tribe. Zhan Hu would lose the first Immunity Challenge to its rival tribe, Fei Long. At Tribal Council, Jaime joined the majority in voting out Chicken Morris in a 5-2-1 vote. Jaime wanted to have a fire to cook rice. However, Dave Cruser, who was deemed the leader of the tribe, was focused on making a fire pit rather than the fire itself. Jaime thought of it as a glorified barbecue pit. At the Reward Challenge, Jaime was teamed with Erik Huffman and Sherea Lloyd but they lost their round, and Fei Long won the challenge. In a twist, Fei Long was allowed to Kidnap one member from Zhan Hu until the Immunity Challenge. Fei Long picked Jaime and was given a container that said "OPEN IN PRIVATE" on it. During her time at Fei Long, Jaime witnessed an argument between Aaron Reisberger and Jean-Robert Bellande. Jaime also learn that the container had a clue to the Hidden Immunity Idol and she had to share the clue with someone on Fei Long. Jaime gave the clue to Leslie Nease. At the Immunity Challenge, Jaime returned to her tribe but was chosen to sit-out of the challenge. Zhan Hu would lose the challenge. Jaime was torn between Dave, who was hard-working but cost the tribe the challenge or Ashley Massaro, her friend who was sick. However, Jaime joined the tribe in voting out Ashley in a unanimous vote over Dave.
At the next Reward Challenge, The women of Zhan Hu managed to win the tribe their first victory. Zhan decided to kidnap Leslie. Leslie bonded with Zhan Hu because of shared religious faith and she gave Jaime an second clue to the idol. Zhan Hu was also able to win Tribal Immunity, keeping Jaime safe for the first time. Unfortunately on Day 10, Frosti Zernow discovered the tribe's rice supply had started growing mold. Dave and Sherea started fighting about whether or not to salvage the rice. Zhan Hu lost the Reward Challenge, costing them much a needed visit from a Chinese fishermen. Fei Long also chose to kidnap Dave. Without Dave, Zhan Hu had to do much of the camp chores he usually did. They noticed Sherea wasn't helping out at all. At the Immunity Challenge, Jaime and Erik were teamed up for the last round against Fei Long's Aaron and Amanda Kimmel. Amanda won the challenge for Fei Long. At Tribal Council, Jaime joined the tribe in voting out the irritating Dave over the lazy Sherea.
On Day 13, Jaime bonded with Erik and talked about their personal lives. Later, the tribe gotten a note saying to pick Fei Long's two strongest members to make them Zhan Hu. Zhan Hu assumed they without any additional stipulation and picked Aaron and James Clement. However, Zhan Hu was shocked when they learned that Fei Long got the same note as Zhan Hu and picked Frosti and Sherea to become Fei Long. Peih-Gee Law talked to Jaime and the women agreed to throw the challenge to rid the two most athletic threats and to have equal numbers when it was time to merge. The women succeeded and Zhan Hu lost. Jaime and Peih-Gee laughed about throwing the challenge and how stupid they looked. At Tribal Council, The Zhan Hus decided to vote out Aaron for presumably being more connected with his Fei Long tribe than James was.
At the next Reward Challenge, Zhan Hu lost and James was kidnapped. Jaime was alarmed when Frosti refused to make eye contact with Zhan Hu. Peih-Gee also pointed when she talked to Sherea, claiming Zhan Hu got her and Frosti's backs, Sherea didn't acknowledge her. Jaime believed Zhan Hu needed to win the Immunity Challenge. The Immunity Challenge was eating local Chinese foods. Jaime competed in the second round against Courtney Yates and won. Zhan Hu would win the Immunity Challenge, keeping Jaime safe. Jaime also unknowingly foiled Todd Herzog's plan to blindside her at Tribal Council with James using the idol to save himself and vote her out inside.
On Day 19, Jaime noticed that there was a blank spot on the one of the archway. Erik later investigated and found of the panels on the ground. Erik believed it to be the idol and gave it to Jaime, Later that night, Jaime searched thought James's bag while he was away. Jaime was shocked when she found an idol in both of his pants pockets. The next day, The tribes officially merged and the castaways were treated to a feast and Chinese performances. The next day, Jeff came to the camp and held the Immunity Challenge, which was questions about the feast itself, there. Jaime came close but lost the immunity to Frosti. Zhan Hu tried to gained the numbers, which included telling Frosti about the idol. At Tribal Council, Jaime voted against Jean-Robert, believing him to be the weak link among the Fei Longs. Before the votes were read, Jaime decided to use what she thought was the idol. However, Jeff revealed it was not an real idol and threw it in the fire, causing some of the tribe to laugh. Jaime was voted out in a 7-3 vote and became the first member of the jury. 
At Final Tribal Council, Jaime wanted to know the Finalists' dirty laundry and she wanted the truth. Jaime started with Courtney on why Todd doesn't deserve to win but she does. Courtney said it was redundant to say Todd's dirty laundry as he wears it proudly and is the reason why the jury is where they are. After Jaime asked for specificity, Courtney pointed out that Todd arranged for Jean-Robert and Frosti's eliminations along with voting out James. Jaime turned to Todd after Courtney was unable to give a reason on why Todd is undeserving and asked why Courtney was undeserving. Todd said that Courtney voted the same with him and was just as guilty as lying as he was and she didn't want to be there in the first place. Jaime asked Amanda about what makes Courtney and Todd undeserving. Amanda said that Courtney was ungrateful and that Todd was unable to play a strategic game without lying. Todd countered by pointing out that he did the dirty work for the nice girl and finished by saying that while all of the finalists played a strategic game, he played the most strategic game of them all. Jaime cast her vote for Todd, being highly impressed with his answers and he would go on to win in a 4-2-1 vote beating Courtney and Amanda.
Voting History
Episode
Jaime's
Votes
Voted Against
Jaime
1
Chicken
-
2
Ashley
-
3
Zhan Hu Tribe Immune
4
Dave
-
5
Aaron
-
6
Zhan Hu Tribe Immune
7
Jean-Robert
Amanda, Courtney, Denise, Frosti,
James, Jean-Robert, Todd
Voted Out, Day 21
Voted for
Sole Survivor
Todd
Post-Survivor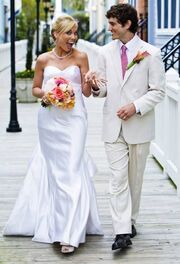 Trivia
Jaime was in the casting finals of Pirate Master before applying for Survivor.[7]
Jaime is the youngest woman on China.
Jaime's 22nd birthday was on Day 6 of China.
Jaime is the first player in Survivor history to play an item mistakenly believed to be a Hidden Immunity Idol.
Jaime is the first woman to be the first member of the jury since Erin Collins in Thailand.

Jaime is the first woman to be the first member of the jury and also reach the merge.
References