What is Immunity Necklace?
The
Immunity Necklace
(also called the
Talisman
in earlier seasons) is awarded to an individual or in rare cases individuals, post-
merge
who has won an individual
Immunity Challenge
.
About
Similar to the Immunity Idol that grants a group of castaways an exemption from Tribal Council, the Immunity Necklace grants one individual safety.
When a contestant is in possession of the necklace, it is brought back to camp and typically placed on the shelter. While other castaways can "try on" the necklace, ownership lies solely with the winner and cannot be stolen by another, unless the winner decides to give up the necklace.
From Survivor: Borneo to Survivor: Africa, the necklace was non-transferable, leaving allies vulnerable. Starting from Survivor: Marquesas, the necklace became a transferable item, permitting a castaway to hand it to another. This has proven to be a dangerous (and sometimes risky) move. In recent seasons, Jeff Probst has stopped asking the castaways if they want to give up the Immunity Necklace, but castaways can still give it up on their own terms if they wish to.
Design
Typically, the Necklace will fit with the motif of the season, with some tribal design or small tiki attached. Other designs include feathers, tiki heads, skulls, and even teeth. A winning contestant will wear the necklace at Tribal Council around their neck to indicate their exemption from being voted against.
One-time only Necklaces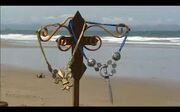 During Survivor: Nicaragua, both tribes competed for individual immunity. In previous seasons, two necklaces would both be similar in appearance; however, La Flor and Espada had their very own unique designs and tribal colors, with either a Fleur de Lis or a Sword.
One-time only Immunity Idol
During Survivor: Micronesia, as a part of a first challenge, a special idol is placed on the front of the rafts of both the Airai and Malakal tribes. The rule is almost the same as the necklace, only the possession right lasts until their tribe's first Tribal Council. The Immunity Idol was found by Yau-Man Chan and Kathy Sleckman respectively (technically, Jon Dalton found the idol first; however, he mistook the opposing tribe's idol for his, and Yau-Man reached theirs first). The two idols were both removed from the game by Day 6, as both tribes went to Tribal Council once each in the first six days.
In Survivor: Gabon, there were two individual Immunity Idols, one for each tribe. The Idols was placed at the top of the hill. The first person to each the idol gets it for their tribe. Marcus Lehman and G.C. Brown got to the Immunity Idols for their respective tribes. The idols were both removed from the game by Day 9.
Description
Gallery
Trivia
Firsts
Records
Most immunity wins in a single season: Colby Donaldson (The Australian Outback), Tom Westman (Palau), Terry Deitz (Panama), Ozzy Lusth (Cook Islands), Mike Holloway (Worlds Apart), and Brad Culpepper (Game Changers) - 5 wins.
Most individual immunity wins overall: Rob Mariano - 9 (4 times in All-Stars, 1 time in Heroes vs. Villains, 4 times in Redemption Island).

In second is Ozzy Lusth with 7 wins (5 times in Cook Islands, 2 times in South Pacific). In Cook Islands, Ozzy won 5 out of 6 individual Immunity Challenges, which is the best percentage of winning in a single season (83.3%). This total does not include his individual immunity in Micronesia, which was not the result of winning a challenge.
In third is a two-way tie between Joe Anglim and Spencer Bledsoe with 6 wins each. Joe won 2 Immunity Challenges in Worlds Apart and added 4 more wins in Cambodia. Spencer won immunity 3 times on each of his two seasons, Cagayan and Cambodia. Between the two, Joe was the first to reach six wins.
No woman has won more than four individual Immunity Challenges. The women with four wins are: Kelly Wiglesworth (Borneo), Jenna Morasca (The Amazon), Amanda Kimmel (China - 2, Micronesia - 2), Parvati Shallow (Micronesia - 1, Heroes vs. Villains - 3), Kim Spradlin (One World), Andrea Boehlke (Redemption Island - 1, Caramoan - 1, Game Changers - 2), and Chrissy Hofbeck (Heroes vs. Healers vs. Hustlers). Andrea is also the only female contestant to win individual immunity in three different seasons.
By Age
References
Community content is available under
CC-BY-SA
unless otherwise noted.