Idol Search Party is the fifth episode of Survivor: Millennials vs. Gen X.
Story
Night 12
The Gen X tribe returns to camp following Tribal Council where Lucy was blindsided. David realizes the gravity of his bold move of using the idol for Jessica and confesses, "I played an idol tonight, but I don't know that playing that idol was the right move because I saved someone who nobody really wants to work with, and now I don't have an idol and I'm incredibly vulnerable." Later, Jessica apologizes to Ken for not believing him and is grateful that he warned her she was about to be targeted. Feeling indebted, Jessica in return tells Ken of the Legacy Advantage, and says she would have willed it to him had she been voted out. Jessica explains, "I told Ken about the Legacy Advantage because I wanted him to know he can trust me. So, I'm hoping that that bought me some more good will." Ken accepts her apology and hugs her. Now aware of the existence of the Legacy Advantage, Ken renews his trust in her.
Day 13
At Gen X, with their Hidden Immunity Idol rehidden, the tribe is unashamed in looking for it. CeCe explains, "The idol is back up for grabs, so we kinda had an idol search party." Everyone scrams around camp to no avail, except David, who is looking for an unsuspecting object with the Takali tribe motif painted on it since he found the idol that way the first time. David searches in the woods with Sunday and CeCe close by. David remarks, "The one issue with an open idol hunt is that everyone is looking for the idol and you might be seen having found it." David looks around and finally sees a log with the tribe motif on it, but waits until CeCe and Sunday leave. The two women eventually give up and return to camp, prompting David to pick up the log and pry it open. David is jubilant to have found his second idol and says, "I can't believe that I'm so fortunate to play an idol and find it again the very next day. I've tasted no victory in my real life that compares to the victory I feel right now in Survivor. It's just a shame that it took me til 42 years of age to get it, but I wanna be that guy that's gonna get further in this game."
The two tribes convene for what they believe is a Reward Challenge, but much to their surprise, Jeff Probst informs them they will be switching from two tribes to three tribes. Everyone who draws a green buff will be part of the new Ikabula tribe, which will be sent to a new beach where they will have to build camp from scratch. However, to compensate Ikabula's disadvantage, they will have one extra tribe member. Taylor is concerned he and Figgy will end up on different tribes. He says, "The swap is random. I have no idea what's gonna happen, especially like me and Figs with this little romance going on, my biggest fear right now is to be split up." After a draw of buffs, the new tribes are formed. The new tribes are as follows:
Taylor sighs in relief he gets to stay on a tribe with Figgy, while Michaela sulks having to move to another tribe. She complains, "You're going to send us to an empty beach, where we got to make the shelter and we don't have any food. I just wanted to flip him off right there, but I didn't." Zeke also expresses dismay being in the minority of his new tribe. He says, "This is like the disaster scenario. I'm on the tribe where the Millennials are not on the numbers, and I'm with Michelle, the one person I have zero trust in." With the new tribes in place, the castaways head to their camps.
The new Ikabula tribe arrives at their beach and begin introductions. With him and Sunday outnumbered by the Millennials 4-2, Bret laments, "Sunday and I are in serious trouble right now, but Gen X'ers, we have the drive to get through tough times in life and not to quit." As the tribe builds shelter, Jay is displeased that Bret and Sunday are more following than leading. He complains, "The Gen X'ers say they work hard, we do things the right way, but the people I have right now are Bret and Sunday, and it sucks they can't figure things out for themselves and they just sit back and wait for you to say something. But, even if I've got to build a new shelter, I'm happy because we have the numbers."
At the new Takali, Ken and Jessica tour Adam, Figgy, and Taylor around camp, where Ken is elated to meet new people. Later, Taylor hugs Figgy when Ken and Jessica are away, but Figgy dismisses his advances, warning him about showing too much affection in front of their new tribemates. Figgy says, "Sorry Taylor, I love you to pieces, but being with these new people that's going to put a target on our back, so it's not smart." Taylor thinks differently and says, "I really think that us being a power couple isn't any different than two people in an alliance that really trust each other." While Ken cooks dinner, Taylor continues to flirt with Figgy, mouthing "you're hot" to her while Figgy in return blows him a kiss. Concerned by how Taylor and Figgy are acting, Adam says, "Getting swapped into a tribe with only Taylor and Figgy from my original Millennial tribe, it's my worst nightmare. Figgy is controlling, she lies constantly, and she's gonna go through the charade as long as she can about how they are not a couple. I don't know how long will that last because Taylor is ready to start canoodling again. To me, that is a worthless partnership." After dinner, Adam and Ken take a walk where Adam admits he is at the bottom of the Millennials and Figgy has been running the show in their old tribe. Believing Ken has a tight of a bond with Jessica as Taylor and Figgy have, Adam finds himself being the important swing vote. He comments, "Ken and Jessica, they seem to have a tight bond, and I know Figgy and Taylor won't turn on each other, so I have both pairs on both sides. I'm the guy they need to come to. I'm the guy they need to work with."
Day 14
Early morning at the new Vanua, everyone is at the beach to get to know each other more. Michele is scared of her place in the game. She explains, "My whole game turned upside down. I happen to be on the only tribe with the minority Millennials, just me and Zeke and three Gen X'ers." Zeke and Chris form a friendship when they realize they are both Oklahomans, more so Zeke being a fan of the University of Oklahoma Sooners football team in which Chris played for. Chris says, "Zeke is an Oklahoma boy just like me. I am feeling better on this new tribe, than I did at the end of the Gen X, because here I feel I have a tad bit more control over my decisions and how I'm going to play the game." Later, Chris pulls Zeke aside to discuss strategy with him. Feeling his game is turning for the better, Zeke says, "It's like the heavens opened and the light shined down and finally, I catch a break in this game."
At Ikabula, the tribe still struggles making fire two days in. Jay relentlessly strikes the flint to the machete hoping to get a spark. Jay says, "So we wake up this morning, we don't have a fire yet, and I'm starving and I'm thirsty. I'm trying to use this flint, I'm exhausted, it just doesn't work for me and I don't understand why." After silently watching Jay's failed attempts, Michaela volunteers to give it a try. Bret hands the flint to Michaela, who then gets a spark going. Jay coming to help maintain the fire. Having fire finally, the tribe is able to boil water and cook food. Michaela remarks, "The fire [situation] got to a point where Jay gave up, but fire is necessary for our life in the game, so I started trying. Deeper down, like there's this thing in my life that sometimes I get to a point where I'm giving all I have and I'm almost to a point of giving up, then I push a little further, and things pop. I work for things, working to put myself through college, to pay off my loans." Bret describes Michaela's reaction after she makes fire: "She went berserk! I'm psyched, and I'm psyched for her. It really brought us all back to life and it was a great moment because she saved us all today." As the rest of the tribe continue fueling the fire, Michaela goes to the woods where she becomes emotional. While she admits she does not cry a lot, Michaela admits, "Sometimes when you have no other choice but to get something done, it happens. It's just letting me know that the life I'm trying to get by winning this thing is worth it. I do want it badly for my family." Once she has collected herself, Michaela returns to camp where her tribe congratulate her.
Day 15
The three tribes meet in their next Immunity Challenge, where Jeff presents a smaller Immunity Idol, implying that two tribes will win immunity. With one extra member, Ikabula sits out Will.
Adam, Sunday, and CeCe are first to swim out for Takali, Ikabula and Vanua respectively where Adam builds a small lead by retrieving Takali's first buoy. CeCe has Vanua's first buoy, but struggles to swim back to their platform while Sunday reaches Ikabula's first buoy, but struggles to untie it. Sunday bails out, prompting Jay to replace her. Jay makes up for lost time as CeCe finally returns with Vanua's first buoy. Michaela also makes quick work of Ikabula's second buoy. David is next in the water for Vanua, and while he quickly unties the buoy, he has a harder time taking it back to the platform, leaving Vanua behind. Figgy, Ken, and Taylor extend Takali's lead for swiftly collecting their tribe's remaining buoys. With Takali in the lead, Ken decides to bring the hoop closer, but fails to reach the hook as his rope is tie up in knots. A fatigued David finally places Vanua's second buoy in the basket. Jay returns to the water to retrieve Ikabula's fifth and final buoy. Michelle fails to reach Vanua's third buoy, forcing Chris to retrieve two. Ken finally lassos the Takali hoop but fails to shoot any buoys. Michaela also hooks Ikabula's hoop, and with her amazing aim, she lands the first two buoys into the hoop, stealing the lead from Takali. Chris successfully brings Vanua's final two buoys, allowing him to shoot them in their tribe's hoop. As Chris decides to throw his buoys without lassoing the hoop closer, he continually misses. Michaela on the other hand scores her last three buoys without fail, winning Ikabula immunity. As Ken piles up points for Takali, Chris begins to get frustrated. Ken finally lands his fifth and final buoy in the hoop, winning second place for Takali, sending Vanua to Tribal Council.
The Vanua tribe returns to camp disheartened by their loss. Chris blames himself for the loss, but Michelle and CeCe tell him he was too tired to throw after having to dive multiple times for their buoys. CeCe dreads going to Tribal Council again, but she muses she is safe, citing Gen X's 3-2 majority. She says, "It's like a nightmare, a recurring nightmares, like I go to sleep, I wake up, and I'm in the same nightmare, back to Tribal Council. The one positive is that finally I'm not at the bottom. This time we have the majority, three Gen X against two Millennials, so either Michelle or Zeke will be voted off." Michelle and Zeke walk off camp, leaving Chris, David, and CeCe behind. The three Gen X agree to vote Michelle out, believing Zeke is relatively better at challenges. Later however, Chris admits he actually wants to get back at CeCe and Dave for blindsiding Paul and Lucy at the old Gen X tribe. He confesses, "Huge night tonight. This is a crucial decision, and quite honestly, I've made a different decision. CeCe and Dave backstabbed me and one of them has to go today. Dave bit me in the butt a couple of times, but he has at least some numbers that will survive this three-tribe situation that we're in. I have to have a big alliance to protect me in a merge, so we're gonna vote out CeCe tonight."
Chris comes to David and tells him his plan to vote out CeCe, leaving Dave uncomfortable. Chris hopes to trust David, given his multiple betrayals. Uneasy, David says, "Chris has on his side Zeke and Michelle, so I think I should just go along with the plan and make him believe he can trust me." Later, Chris and David approach Michelle and Zeke while CeCe is away, telling them they are voting CeCe instead. Michelle states she does not trust either Gen X'er and says, "I'm not going to sit back and let other people decide my fate." Michelle joins CeCe in the hammock, and while she does not reveal Chris' plan, she insists to vote Dave out instead, believing he is weaker in challenges than her. CeCe however appears to be adamant. With no other alternative, Michelle begrudgingly would have to place her trust in Chris and David. She says, "I tried to talk strategy with [CeCe], but I can't get anywhere, so all I can do right now is hope that David and Chris are telling me the truth, and hope for the best."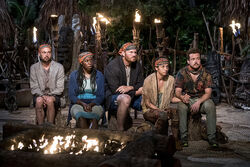 CeCe hangs out with the boys, and reveals Michelle is now targeting David, leaving David perplexed again. He says, "Chris and I talked and we decided to work with the Millennials to vote for CeCe, but I really don't trust Michelle. She wanted to woo CeCe over and target me. Once CeCe is gone, I'll be the weakest person of our tribe, and I worry that Chris, Michelle, and Zeke could form a voting bloc and vote me out. It's got me thinking whether or not I should give my idol to CeCe and then vote off Michelle. I play a lot of chess, and you have to look as many moves ahead as you can."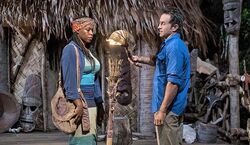 At Tribal Council, Zeke and Michelle admit there is a strong chance that either of them goes home. David states the Gen X are sticking together, but Zeke rebuts that they need them to seek connections with the other Millennials moving forward. Chris and Zeke acknowledge they had formed a friendship, being Oklahomans. Chris brings up being duped at Tribal Council too many times, but David assures Chris he can trust him and hopes the Gen three X'ers are truly united. In the end however, David's call for Gen X unity is revealed to be a ruse, as he, Chris, Michelle, and Zeke unanimously vote CeCe out, 4-1.
Challenges
Immunity Challenge: Holy Diver
One at a time, the castaways must dive in to retrieve five buoys. Each buoy is located deeper than the one before it. Once all five buoys have been retrieved, the tribes have a choice between immediately starting the tossing part of the challenge or lassoing the target in first. Lassoing will reduce the distance between the platform and the target basket by 6 feet, making the tossing easier. The first two tribes to toss all five buoys into the basket win immunity.
Winners (in order of finish): Ikabula and Takali
Tribal Council
Tribal Council 5:
Vanua
Voted
Against
Voter

CeCe (4 votes)

Chris, David, Michelle, Zeke

Michelle (1 vote)

CeCe
VOTED OUT:

CeCe Taylor
Voting Confessionals
No voting confessionals were aired this episode.
Final Words



CeCe

"

(sighs) I was blindsided. My two fellow Gen-Xers voted against me, and going forward, they're gonna lose. I think it was the dumbest mistake that they made. I feel betrayed, you know, but I played as hard as I could. I strategized. I snuck in, and I absolutely believe that my kids are going to be very proud how far I came in the game and that I did my best.

"
Still in the Running
Trivia
Secret Scene
Secret Lovers: After Ken leaves to run errands, Figgy and Taylor are left alone together. The lovebirds discuss their gameplan. In a confessional, Taylor states that having Figgy's love would beat winning a million dollars.[2]
Behind the Scenes
Other
Episode Title
References
Community content is available under
CC-BY-SA
unless otherwise noted.