Ethan Zohn is the Sole Survivor of Survivor: Africa. He later competed on Survivor: All-Stars and Survivor: Winners at War.
In Africa, Ethan aligned with Lex van den Berghe and Tom Buchanan early on, laying the foundations for what would become the Boran Alliance. When the first ever Tribe Switch resulted in Lex and Tom being switched to the opposing tribe, Ethan assumed the leadership role on Boran, negotiating with original Samburu outsiders Frank Garrison and Teresa Cooper the first ever instance in Survivor history that a tribe purposefully lost an Immunity Challenge to eliminate the leader of the Younger Samburu Alliance, Silas Gaither. This allowed Boran to enter the merge with a numbers advantage and, after the implosion of the original Samburu tribe, got the Boran Alliance to the final four. However, a late immunity run by Kim Johnson resulted in the eliminations of Tom, followed by Lex, with Kim choosing to go to the Final Two with Ethan over the latter. At the Final Tribal Council Ethan's likability and strong social gameplay won him the title of Sole Survivor in a 5-2 jury vote over Kim.
His time in All-Stars wasn't as successful. Starting on the Saboga tribe, Ethan was targeted for being a previous winner. After losing fellow ally and winner Tina Wesson, Ethan was spared when Rudy Boesch's injury made him a liability. Following Saboga's dissolution, Ethan was chosen by the Mogo Mogo to join them, as they aimed to vote him out. Ethan would manage to survive the next few rounds as Lex, his former Africa ally and leader of the Mogo Mogo Alliance orchestrated the eliminations of Richard Hatch and Colby Donaldson. Following the former's elimination, Ethan was the last winner standing. When Mogo Mogo lost another Immunity Challenge, however, Lex pulled the trigger on Ethan and leading the charge to vote him out in 11th place.
In Winners at War, he initially found himself in a comfortable position in the old-school alliance with Danni Boatwright, Parvati Shallow, and Rob Mariano on the Sele tribe. However, when the alliance began to crumble and Danni was voted out, Ethan found himself voted out and sent to the Edge of Extinction next as the new school alliance felt that his elimination would weaken Parvati and Rob. He failed to win both return challenges and finished in 18th place.
Profile
Retrieved from CBS.com
Originally from Lexington, Massachusetts, Ethan Zohn currently lives in New York City. He is a professional soccer player, having been employed as a goalie for the Highlanders Football Club (Zimbabwe), Cape Cod Crusaders (Cape Cod, Massachusetts) and the Hawaii Tsunami (Oahu, Hawaii). Zohn also played for the 1997 and 2001 U.S. National Maccabiah Team (Israel). Off the field, he has been the assistant coach for the Fairleigh Dickinson University Men's and Women's Soccer Team in Teaneck, New Jersey since 1998. Additionally, since 1999 Zohn has worked freelance as a brand name strategist/developer, responsible for creating names for newly invented products. Zohn attended Vassar College, where he graduated in 1996 with a Bachelor of Arts degree in Biology. Following graduation, he traveled for six months in Australia and New Zealand, where he bungee jumped from one of the highest jumps in the world (400 feet). In addition to playing soccer, Ethan Zohn is an aspiring inventor who enjoys scuba diving, photography, running and cooking (he's a vegetarian). He has two brothers, Lenard and Lee. His birth date is November 12.[1]
Since being declared the winner of Survivor: Africa, Ethan Zohn has founded "Grassroot Soccer," a non-profit organization which trains Africa's professional soccer players to teach children about HIV/AIDS prevention (www.grassrootsoccer.org). Additionally, he is a national spokesperson for America Scores, an organization that helps inner city kids participate in educational soccer programs. He has done extensive charity work for the Elizabeth Glazer Pediatric Aids organization and YouthAids, along with the Colon Cancer Alliance. He has participated in numerous speaking engagements, appeared in a Hewlett Packard commercial, hosted numerous MTV specials and appeared in various other television and print media. He most recently served as the coach of the U.S. National Maccabiah Team at the Pan American Maccabi Games in Chile. In 2002, Ethan hosted "Ethan Zohn's Zone," an online journal summarizing the events of the 2002 World Cup in Korea/Japan. His accounts provided fans with a behind-the-scenes look inside the U.S. Soccer Team and the event itself. He also competed in Eco-Challenge Fiji with fellow Survivor alumna, Jenna Lewis. Originally from Lexington, Massachusetts, Ethan moved to New York, where he attended Vassar College, graduating in 1996 with a Bachelor of Arts degree in biology. He eventually became a professional soccer player, having been employed as a goalie for the Highlanders Football Club (Zimbabwe), Cape Cod Crusaders (Cape Cod, Massachusetts) and the Hawaii Tsunami (Oahu, Hawaii). Ethan also played for the 1997 and 2001 U.S. National Maccabiah Team (Israel). Off the field, he was the assistant coach for the Fairleigh Dickinson University Men's and Women's Soccer Team in Teaneck, N.J. from 1998-2002. Additionally, since 1999 he has worked freelance as a brand name strategist/developer, responsible for creating names for newly invented products. Ethan is currently single and living in New York City. He has two brothers, Lenard and Lee. His birth date is November 12, 1973.[2]
Hometown: Lexington, Massachusetts
Current residence: Hillsborough, New Hampshire
Previous seasons: Winner of Survivor: Africa (Season 3), Survivor: All-Stars (Season 8)
Occupation: Social Entrepreneur and Keynote Speaker
Hobbies: Inventing useless gadgets, chopping and stacking wood, and chasing cats with my laser.
Pet peeves: Weird bagel flavors. It's not a bagel unless it's sesame, poppy, plain, or everything.
Three words to describe you: Compassionate, neurotic, and funny. I'm really, really funny.
When did you first watch Survivor? I've been watching since Richard Hatch first took advantage of CBS' ability to pixelate a moving image.
Do you still watch Survivor? I wouldn't miss it for the world!
What is your inspiration in life? Helping people in big and small ways. From working with big organizations that help kids stay healthy, like Grassroot Soccer, to speaking with patients about surviving and thriving in life after a cancer diagnosis.
What does Survivor mean to you and your family? My nieces and nephews are going to flip out and have some major bragging rights in the hallways.
What is one way playing Survivor changed your life? Oh, let me count the ways! In the "pinball machine" of life, one thing can change everything about a person's life. Survivor was that one thing. It gave me opportunities that I only dreamed of, I got to see the world, help make small differences in people's lives, got to meet incredible people across the globe, and brought joy and laughter to my family from all the crazy stories I got to tell after each adventure.
As Survivor approaches Season 40 and celebrates 20 years on television, what does it mean to be a part of the legacy? 19 years ago I got let go from a job, had a day off in NYC, and sent a VHS audition tape into CBS on a lark the day before it was due. What happened next literally changed the trajectory of my life. This show has brought happiness and memories to so many people around the world, and it's cool to be a small part of that.
How will you play differently than you have in your past seasons? The last time I played this game was in 2004 on Survivor: All-Stars... there were no Idols, hidden clues, advantages, or ways to get back into the game. And get this—we actually had to survive! The game has changed and so have I. I plan to adapt, have fun and push my mind, body, and spirit to the max.[3]
Survivor
Africa
As part of the Boran tribe, Ethan was seen as a strong player who could potentially win challenges, and was not targeted early because of his congenial personality. During Boran's two back-to-back Immunity Challenges losses, he joined the majority to vote off Diane Ogden and Jessie Camacho. Over the next few days, Ethan would cement a long-term alliance with Lex van den Berghe and Tom Buchanan from his Boran tribe.
A twist on Day 13 saw both of Ethan's alliance members switch from Boran to the Samburu tribe, leaving Ethan alone with old Boran members Kim Johnson and Clarence Black. Two of the new Boran members from the Samburu tribe, Teresa Cooper and Frank Garrison, had an old misunderstanding with younger original Samburu member Silas Gaither. So, on Day 15, a secret consensus was reached between Teresa and Frank and the original Borans (in which the two ex-Samburus would swear loyalty to Boran) by purposefully throwing the next Immunity Challenge in order to vote out the unpopular Silas. Both of Ethan's alliance members, Tom and Lex, remained safe on the Samburu tribe, carrying all three into the merge.
Ethan's alliance soon began to take control of the game, along with other members Kim J. and Kelly Goldsmith, all from the original Boran. They immediately targeted old Boran member Clarence due to his physical strength and he was voted out. But unbeknownst to Lex, he had received another vote at Tribal Council, who he believed had come from Kelly, but Teresa was the real culprit. This led Lex on a witch-hunt against Kelly which almost led to the demise of Ethan's alliance when Kelly possessed the power with the other four ex-Samburu members, Teresa, Frank, Kim Powers, and Brandon Quinton. But at the last minute, Brandon switched his vote, saving Lex and eliminating Kelly. But this move came back to haunt Brandon, when Ethan's alliance saw him as untrustworthy and voted him out at the next Tribal Council.
Ethan, Lex, Tom, and Kim J. regained control of the game, ousting previous Samburu members Frank, Kim P., and Teresa in the next three votes, carrying them into the final four. Kim J. surprised everyone by winning the remaining Immunity Challenges, putting the men (who already planned to be the final three) in trouble. Tom and Lex were eliminated respectively, thus bringing Ethan to Day 39.
In the end, Ethan beat out Kim in a 5-2 vote to become the Sole Survivor, receiving votes from Kelly, Frank, Teresa, Tom, and Lex.
Voting History
Ethan's Voting History
Episode
Ethan's
Votes
Voted Against
Ethan
1
Diane
-
2
Jessie
-
3
Boran Tribe Immune
4
Boran Tribe Immune
5
Silas
-
6
Boran Tribe Immune
7
Clarence
-
9
Kelly
Individual Immunity
10
Brandon
-
11
Frank
-
12
Kim P.
-
13
Teresa
-
14
Tom
-
Ineligible
-
Jury Votes
for Ethan
Frank, Kelly,
Lex, Teresa, Tom
Sole Survivor, Day 39
All-Stars
Originally part of the Saboga tribe, Ethan was immediately targeted as a previous winner, along with Survivor: The Australian Outback winner Tina Wesson. When Saboga lost immunity, the rest of the tribe decided to vote out Tina first, needing Ethan's strength to win future challenges. When Saboga lost immunity once again, Ethan was spared once more over physical liability Rudy Boesch, who had hurt his ankle at the Reward Challenge.
On Day 13, Ethan and the rest of the Saboga tribe were disbanded after losing a challenge. Ethan and Jerri Manthey joined the Mogo Mogo tribe, while Jenna Lewis and Rupert Boneham joined Chapera. Later in that episode, Ethan joined the rest of his new tribe to vote out Survivor: Borneo winner Richard Hatch. With Kathy Vavrick-O'Brien kidnapped by Chapera, Ethan joined forces with Colby Donaldson to oust Jerri. Unfortunately for Ethan, Shii Ann Huang voted against Colby, causing his demise. On the outs, Ethan begged Lex to honor their friendship by keeping him over the unpopular Jerri. Despite this, he was the last of the former winners to take the fall, though he was the most successful of the four previous winners who competed on All-Stars, lasting longer than Tina, Richard, and Jenna Morasca did.
Ethan was nominated in Survivor: America's Tribal Council as Sexiest Male, but lost to Colby Donaldson.
Voting History
Ethan's Voting History
Episode
Ethan's
Votes
Voted Against
Ethan
1
Jenna L.
-
2
Rudy
Rudy, Rupert
3
No Tribal Council
4
Saboga Tribe Immune
5
Richard
-
6
No Tribal Council
7
Jerri
-
8
Jerri
Jerri, Kathy,
Lex, Shii Ann
Voted Out, Day 21
Winners at War
Eighteen years after his Africa victory, and sixteen years after his second attempt in All-Stars, Ethan returned for the show's 20th anniversary. Ethan considered himself fortunate to play Survivor again given he survived cancer and feared a relapse, but nevertheless looked forward to this new adventure. He bonded with Danni Boatwright over how much the game had changed since their last seasons, and reconnected with fellow All-Stars castmate Rob Mariano. Though Ethan described the gameplay this season as "warp speed", he was part of the majority that voted out Natalie Anderson on Day 2. The game would become complicated when Danni accidentally revealed the old-school alliance in a conversation with Ethan and Ben Driebergen. Danni's paranoia and poor decision-making on Day 6 left Ethan no choice but to join in voting her out unanimously.
Adam Klein approached Ethan about the possibility of voting out Parvati Shallow at the next vote, to which Ethan seemingly agreed to, but he secretly was not fond of that plan as Parvati had become a valuable friend and ally to him. Adam's continued scheming appeared to weigh on both alliances, so Ethan, Parvati, and Rob agreed to target Adam ahead of Day 9's Tribal Council. Ethan spoke at that Tribal Council about how the most important moment in his game is this moment, so he wasn't worried about the end game. Unfortunately for Ethan, that vote signaled the end of the main game for him as the new-school players left Adam out of the loop and blindsided Ethan in order to weaken Rob and Parvati's grip on the game. Ethan bequeathed his Fire Token to Parvati on the way to the Edge of Extinction.
Ethan struggled in the first effort task, to the point where he collapsed. He managed to recover, and with the support of Natalie, Amber Mariano, and Danni, he eventually completed the task and earned a Fire Token. This token allowed him to purchase an advantage for the first re-entry duel, though Ethan was unable to win. As the post-merge saw the Edge of Extinction become more populous, Ethan was unable to secure any more Fire Tokens and lost the second re-entry duel as well. After losing, Ethan thanked Survivor's role in saving his life by funding the drug that helped him recover from cancer.
At Final Tribal Council, Ethan asked Michele Fitzgerald and Tony Vlachos about the role the Edge of Extinction in their games as neither of them were sent there. Michele credited a lot of her successes this season to the Edge through the Fire Tokens and advantage she received, while Tony had the opposite experience as it sent him an Extortion and Natalie's re-entry which complicated his game. Ethan voted for fellow long-time Edge inhabitant Natalie to win the title of Sole Survivor, but she ultimately lost to Tony in a 12-4-0 vote.
Voting History
Ethan's Voting History
Episode
Ethan's
Votes
Voted Against
Ethan
1
Natalie
-
Sele Tribe Immune
2
Danni
-
3
Adam
Ben, Denise,
Jeremy, Michele
Voted Out, Day 9
4
On Edge of Extinction
5
6
7
8
9
10
11
12
13
14
Eliminated, Day 35
Voted for
Sole Survivor
Natalie
Post-Survivor
In early 2002, Ethan, along with all of his fellow Survivor: Africa castaways appeared on Late Show with David Letterman where they would present the top 10.[4]
On May 19, 2002, Ethan, along with Survivor: The Australian Outback winner Tina Wesson, appeared live going into commercial break chatting with Rosie O'Donnell during the Survivor: Marquesas finale episode "The Sole Survivor". Rosie asked Ethan who he thought would win Marquesas and Ethan said Vecepia Towery would win, while Tina said Neleh Dennis would win.
In the summer of 2009, Ethan, along with the other first eighteen Survivor winners, appeared on a TVGuide special "Survivor Millionaires: Where Are They Now?"[5]
Ethan was inducted into Xfinity's Survivor Hall of Fame in 2012.
Personal life
Ethan formerly dated Jenna Lewis and Amber Brkich. He then began dating and eventually got engaged to fellow winner Jenna Morasca, with whom he competed on the nineteenth season of The Amazing Race in 2011. In February 2013, the couple split up but remained as good friends.[6] Ethan got engaged to Lisa Heywood in July 2015.[7] They married in July 2016.[8]
Media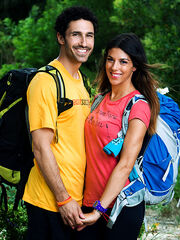 Ethan was a member of Team Mad River during the 2002 Eco-Challenge in Fiji.
In 2005, Ethan appeared on Kill Reality, which follows various reality television personalities as they film a horror movie called The Scorned.
In 2005, Ethan was a contestant in a special episode of Fear Factor which aired on February 28, 2005, in which he competed against other reality star winners, including his girlfriend, Jenna Morasca, who was the winner of Survivor: The Amazon. He finished second, losing to former The Bachelorette winner Ryan Sutter.
In 2005, Ethan appeared as a contestant in a special Castaway Special episode of Family Feud, where he competed with Jon Dalton, Richard Hatch, Rudy Boesch, and Rupert Boneham. The five competed against Christa Hastie, Jenna Morasca, Shii Ann Huang, Susan Hawk, and Tijuana Bradley.[9]
In October 2006, Ethan appeared on an episode of the VH1 series Celebrity Paranormal Project. He and his team investigated alleged paranormal activity at the Warson Asylum for the Criminally Insane.
In the fall of 2010, Ethan appeared in a "Stand Up 2 Cancer" commercial along with Colby Donaldson, Parvati Shallow, Rob Mariano, and Rupert Boneham.[10]
Ethan is now co-host of Outside Today on the new cable TV network.
In 2011, Ethan and Jenna Morasca appeared in the first episode of Celebrity Apprentice 4, where Richard Hatch was one of the celebrities competing.[11]
In the summer of 2011, Ethan and Jenna Morasca competed on the nineteenth season of The Amazing Race.[12] They were eliminated in the second episode, finishing in 10th place.
Ethan has co-written a series of children's books entitled "Soccer World".
Since December 2013, Ethan has been writing weekly entries for his blog The Zohn Zone, part of everydayhealth.com. The blog details his life experiences as a cancer survivor. 
Ethan was a guest on the Survivor After Show, hosted by Parvati Shallow.
Advocacy
Ethan is an animal rights advocate. He posed nude (while holding a leaf to cover himself) for PETA's "I'd Rather Go Naked Than Wear Fur" campaign along with Jenna Morasca.
Ethan used his winnings to found a fundraiser called "Grassroots Soccer". This was Richard Hatch's chosen charity in Celebrity Apprentice.
Illness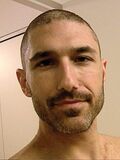 On April 30, 2009, Ethan was diagnosed with a rare type of cancer called CD20-positive Hodgkin's lymphoma. He was diagnosed after experiencing night sweats and strange itching. He started chemotherapy in May 2009. On September 14, 2009, he disclosed that after three months of intensive chemotherapy, his cancer returned. He underwent a new treatment, including a stem-cell transplant, to battle the rare form of Hodgkin's disease. Ethan received a "clean CT scan" in late April 2010.
Twenty months after his remission, Ethan's cancer returned, and he underwent another series of stem cell transplants.
Despite his cancer diagnosis, Ethan was able to compete on Survivor: Winners at War in 2019. He revealed after being eliminated from Winners at War that the money raised from "Survivor Stand Up to Cancer" helped fund the drug that fought his cancer.[13]
Trivia
Ethan's luxury item on Africa was a hacky sack. He gave it away on a trip to a local African village.
Ethan is the only castaway in Africa to never receive an elimination vote.

Ethan is the first man to reach the Final Tribal Council without receiving an elimination vote against him.

Ethan was the first person to earn the title of Sole Survivor and not win in a 4-3 vote.

Ethan is the first Sole Survivor to win with more than four jury votes.

Ethan was the first castaway in their twenties to become the Sole Survivor.
Ethan is the first Jewish player to win the title of Sole Survivor.
At the Africa Reunion Show, Bryant Gumbel mispronounced Ethan's name as Ethan "Zorn".
Ethan became the highest-ranking former winner in All-Stars, outlasting Tina Wesson, Richard Hatch, and Jenna Morasca.

He was also the only former winner to not be voted out at the first Tribal Council they attended, although Jenna quit without attending a single one.

Ethan's 30th birthday was on Day 10 of All-Stars.
Ethan once held the record for the longest days lasted without getting voted out with 60 days. His streak was broken by Amanda Kimmel.
Ethan was the only returning player from Africa to be eliminated before the merge in All-Stars.
In her Heroes vs. Villains profile, Jerri Manthey listed Ethan as the past Survivor contestant that she respects the most.[14]
Ethan and Jenna Morasca are the second Survivor team to compete in The Amazing Race, following Rob Mariano and Amber Mariano. The pairs were followed by Keith Tollefson and Whitney Duncan, and later by Bret LaBelle and Chris Hammons, Corinne Kaplan and Eliza Orlins, and Rupert Boneham and Laura Boneham.
In an interview on Rob Has a Podcast, it was revealed that Ethan and Jenna Morasca were considered to return in South Pacific, after applying for The Amazing Race. The couple declined the offer, saying that they were not interested in competing against each other.[15]
Ethan was invited to compete on Game Changers, but declined the offer because he would not return home until the day before his wedding.[16]
By returning in Winners at War 16 years and 32 seasons after their appearance in All-Stars, Ethan and Amber Mariano broke Kelly Wiglesworth's record for the longest period in between appearances on the show.
Ethan is the oldest man on the original Sele tribe.
Ethan and Parvati Shallow are the fourth and fifth jurors to vote for a player to win after having successfully voted them out earlier in the season, following Tijuana Bradley in Pearl Islands and David Wright and Wardog DaSilva in Edge of Extinction.
References
Community content is available under
CC-BY-SA
unless otherwise noted.