Erik Taylor Huffman is a contestant from Survivor: China.
Soft-spoken, charming, and effective in challenges, Erik was one of the longest-lived members of the Zhan Hu Alliance that lost control of the game after the merge. He was eliminated in 6th place.
Profile
Retrieved from CBS.com
Erik Huffman was born in Greenville, South Carolina, where he remained through college. From an early age, he enjoyed a number of sports, excelling in football and baseball. He also achieved academic excellence, from competing at the Greenville County Spelling Bee at age 10 to ranking 10th out of 243 people in his high school graduation class. He continued playing football in high school and began running track. Huffman's hopes of being a potential college football prospect were shattered when he broke his leg during his senior year. In track, he specialized in the Triple Jump, qualifying and competing once for the State Championship.
Huffman graduated from Furman University with a Bachelor of Arts degree in Business Administration in 2003. In 2001, he also spent six months studying at Griffith University in Queensland, Australia. During college, he played intramural sports, but his energy became more focused on music. Having previously worked as a sporting goods sales representative and a waiter, Huffman found more pleasure in media and entertainment. At age 18, he began modeling and landed spots in local print ads and commercials in Greenville. His profile took a leap when he was discovered by Ford Models. He has done work with Hanes, Glamour, Abercrombie & Fitch, Finish Line (in Sports Illustrated), Macy's, Target and many others.
Huffman's father began teaching him guitar at age 13, and he later picked up bass guitar at age 16. Music was a passion, but it remained only a hobby for years. During his free time at Furman, Huffman began playing bass guitar with Alex Florez, and just before graduating college, he decided to pursue music more seriously. He is currently a full-time musician, playing bass guitar and singing with his rock band, FLOREZ. The band travels in a 15-passenger van to various cities across the United States, playing about three shows a week at clubs, colleges and private parties. FLOREZ has shared the stage with Sister Hazel, Better Than Ezra, Josh Kelley, The Doobie Brothers, Gavin DeGraw and Robert Randolph, to name a few. In 2005, the band signed a co-publishing deal with BMG Songs North America and, in February 2006, their song, "Natalie," was featured in the television series "Scrubs." Aside from music, Erik still models part-time. He currently appears in the Summer/Fall 2007 Hanes campaign.
Huffman's hobbies include running, football, lifting weights, frisbee, golf, Sudoku, movies, snowboarding and skateboarding. He describes himself as genuine, honest, sensitive, competitive, a problem solver, athletic and sometimes, a perfectionist. Huffman is a Christian, and he believes his faith will keep him strong and focused when faced with the physical, mental and emotional hardships of Survivor: China.
Huffman currently resides in Nashville, Tennessee. His birth date is January 31, 1981.[1]
Survivor
After the competition of the Welcoming Ceremony and the reveal that the castaways would only have the clothes on their back, Erik Huffman was placed on the Zhan Hu tribe. Zhan Hu ended up losing the first challenge of the season to its rival tribe, Fei Long. At Tribal Council, Erik joined the majority in voting out Chicken Morris over Ashley Massaro and Peih-Gee Law. 
The next day, Dave Cruser resumed his role leader with Peih-Gee as the number two. Erik notes that Dave, while he had good ideas, would stick with own ideas over others. At the Reward Challenge, Erik was teamed with Jaime Dugan and Sherea Lloyd for the first round of the challenge. They lost their lost and Zhan Hu lost the challenge. Fei Long was also given the choice to kidnap someone from Zhan Hu and they chose Jaime to demoralize Zhan Hu. Zhan Hu situation didn't get any better as their camp was flooded and they lost the next Immunity Challenge. At Tribal Council, Ashley was unanimously voted out over Dave.
Things improved for Zhan Hu when the women won the tribe it's first challenge, giving the tribe comfort items, a tarp and a lantern with kerosene. Zhan Hu chose to kidnap Leslie Nease. Leslie bonded with Zhan Hu because of shared Christian background. The women also learn some of Fei Long's tribe dynamics such as Aaron Reisberger being their tribe leader. Zhan Hu was able to keep up the good fortune by winning the Immunity Challenge.
Unfortunately, Zhan Hu's bad luck resumed when Frosti Zernow discovered Mold growing the rice and lost the Reward Challenge. Fei Long chose to kidnap Dave until the next Immunity Challenge. Without Dave, the tribe had to pick up the workload he usually does. Erik got annoyed with Sherea Lloyd when she sat in the shelter. At the Immunity Challenge, Erik competed in the last round with Jaime. However, they were unable to overcome the deficit their tribe had and Zhan Hu had to go to another Tribal Council. Erik personally wanted to vote out both the irritating Dave and the lazy Sherea. At Tribal Council, Erik join the tribe in voting out Dave in a unanimous vote over Sherea. 
On Day 13, Erik and Jaime bonded and revealed facts about their personal lives. Later that day, The tribe received a note saying to people Fei Long's two strongest members. Zhan Hu chose Aaron Reisberger and James Clement. Under the assumption that they would have an 7-5 numbers advantage, Zhan Hu was surprised that the Fei Long gotten a similar note that allow them to pick two Zhan Hu to become Fei Long and chosen Frosti and Sherea to join them. At the Immunity Challenge, Erik and Aaron managed to give Zhan Hu a lead. However, Jaime and Peih-Gee squandered the lead and Fei Long won immunity. He later learned that the women threw the challenge to vote out the Fei Long members on Zhan Hu. Realizing that he can't flip on the women, Erik join them in voting out Aaron in a 3-1-1 vote over James.
At the next Immunity Challenge, Zhan Hu lost and James was kidnapped. Jaime and Peih-Gee compared notes and realized that Frosti and Sherea may not be committed to returning to Zhan-Hu when the tribes merge. The Immunity Challenge was an eating contest of local Chinese foods. Erik went up in the third round against Amanda Kimmel and won. Erik went up again with Frosti as his opponent and was barely able to beat him out to win immunity for Zhan Hu.
On Day 19, Jaime pointed out that the signs on the archway was gone. Erik went to look and found one on the ground. Erik felt that the item was the Hidden Immunity Idol and gave it to Jaime. The next day, the tribes would merge into one and would move to Fei-Long's campsite. The castaways were treated to a feast with entertainment provided by Chinese performers. However, the castaways were tested of their events of the feast in the next Immunity Challenge which Frosti won. Despite Zhan Hu trying to gain the advantage, Jaime ended up being the first member of the jury in a 7-3 vote over Jean-Robert Bellande.
At the next Reward Challenge, Peih-Gee picked Erik, Frosti, and Courtney Yates to be on her team but lost. At the Immunity Challenge, Erik was the fourth out and Courtney would win immunity. When Jean-Robert claimed to Erik that he has the idol, Erik burst his bubble and point that James has two Hidden Immunity Idols. Little did Erik would know that comment would set the chain of events that would get Jean-Robert blindsided in a 5-3-1 vote.
At the Next Reward Challenge, Erik became on of the captains. Erik picked Frosti, who picked Amanda and Courtney was on the team by default. The quartet worked together well and the cruise down the Li River almost unopposed. During the cruise, The four eat good food and enjoyed the scenery. During this time, Erik tried to get into the good graces of Amanda and Courtney and felt he was succeeding. However, Frosti was wary of Erik and his likability. Erik believed he would be spared as long Peih-Gee doesn't win immunity because of her more abrasive nature. At the Immunity Challenge, The castaways were given the choice of competing or eating burgers with all the fixins, fries, and sodas. Erik chose to compete, but he was eliminated in the first round. Peih-Gee ended up winning immunity over Frosti, endangering Erik. Erik immediately realized that he and Frosti were on the chopping block and wished good luck to each other. At Tribal Council, Erik was spared and Frosti was voted out.
After Frosti left, the Castaways were quizzed on facts on China for a trip to the Shaolin temple. Although he didn't win, Peih-Gee picked Denise and Erik to join her. On the way, Peih-Gee attempted to sway Denise into a final 3 deal. The trio was impressed by the Temple, the monks and their martial moves. Erik talked to James about flipping but the latter wasn't interest. At the Immunity Challenge, Erik scored 6 points and qualified for the final. Erik scored the highest score and won immunity. Peih-Gee's plan was too encourage James to use one of his idols to eliminate Todd. However, Erik didn't feel comfortable with Peih-Gee's plan and voted against James at Tribal Council. James didn't use his one of his idols and he was blindsided in a 5-1-1 vote. 
Erik and Peih-Gee were thankful to still be in the game. The tribe was also thankful that James didn't play one of his idols. The next Reward Challenge was the Loved Ones Challenge. Erik was partnered with his mom, Denise. However, Denise Martin won the challenge with her husband won the challenge. She opted to pick Todd, Amanda, and their respective sisters to join her and her husband on reward. The remaining three (notably Courtney) at camp talk about Todd and his reaction to his other sister having a miscarriage. They all agree that Todd was playing up his reaction and possibly faking it. At the next Immunity Challenge, Erik struggled and Peih-Gee won immunity. Erik tried to sway Amanda and Denise to vote out Todd. However, At Tribal Council, Erik was voted out in a 4-2 vote becoming the fifth member of the jury.
At Final Tribal Council, Erik asked Amanda what was her riskiest move in the game. Amanda said that hers was voting out James because he would be a finalist and wreck her alliance. Erik felt that Amanda's move was the most logical. Amanda justified the most by pointing out the game would be very different if James played one of his idols. Satisfied with her answer, Erik gave his jury vote to Amanda. However, Amanda would lose the title of Sole Survivor to Todd in a 4-2-1 vote.
Voting History 
Erik's Voting History
Episode
Erik's
Votes
Voted Against
Erik
1
Chicken
-
2
Ashley
-
3
Zhan Hu Tribe Immune
4
Dave
-
5
Aaron
-
6
Zhan Hu Tribe Immune
7
Jean-Robert
-
8
James
-
9
Frosti
Frosti
11
James
Individual Immunity
12
Todd
Amanda, Courtney,
Denise, Todd
Voted Out, Day 33
Voted for
Sole Survivor
Amanda
Post-Survivor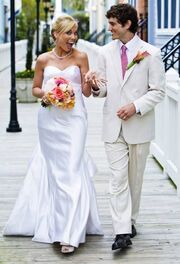 Erik proposed to fellow Zhan Hu tribemate Jaime Dugan in 2008.[2]
Erik and Jaime won an $80,000 wedding courtesy of the Charleston Area Convention and Visitors Bureau in Charleston, S.C., not far from their hometowns in upstate South Carolina.[3]
 The couple married on April 4, 2009. The Amazing Race 13 team Marisa Axelrod & Brooke Jackson served as Jaime's bridesmaids.[4]
The couple has one child, a son named Harper.[5]
Erik has since became a Physician's assistant.[6]
Trivia
References