Candice Leigh Cody[1] (née Woodcock) is a contestant from Survivor: Cook Islands, Survivor: Heroes vs. Villains, and Survivor: Blood vs. Water.
A surprising love interest in Cook Islands, Candice attracted the attention of several men in her original season, most notably Adam Gentry. She was mainly known for her Mutiny to go with the Raro Alliance, resulting in the creation of the Aitu Four. However, this move proved fatal, as she was frequently sent to Exile Island by the Aitu Four as revenge. After Jonathan Penner flipped on the Raro alliance, Candice found herself in the minority and was swiftly voted out.
In Survivor: Heroes vs. Villains, she was initially a part of the Heroes Alliance, but flipped to Russell Hantz and his Villains' alliance, only to be swiftly betrayed when Russell no longer needed her services.
In Survivor: Blood vs. Water, she was known for her fierce hatred and hate-filled speeches towards Brad Culpepper, and going on a short Redemption Island duel streak, only to lose to her husband, John Cody, and Brad.
Profile
Retrieved from CBS.com
Candice Woodcock was born and raised in Fayetteville, North Carolina. She graduated from Terry Sanford High School where she was president of her class and captain of the soccer and cross country teams. She received a perfect score on the math portion of her SATs. Woodcock won full merit scholarships to both the University of North Carolina at Chapel Hill and Duke University. She accepted the Morehead Scholarship to attend UNC-Chapel Hill and eventually received her Bachelor of Science Degree in biology and psychology with a minor in chemistry. Survivor: Africa inspired Woodcock to do service work in Africa. Following her freshman year of college, she spent 10 and a half weeks living in a mud hut with a tribal family in the western highlands of Kenya. She taught primary and secondary school in the village and designed her own service project where she ran a clinic that distributed over 700 pairs of eyeglasses that had been donated by parties in the United States. Inspired by her work in Kenya, Woodcock became the fundraising director and then executive director of Students for Students International, a completely student-run, non-profit organization at UNC-Chapel Hill that gives scholarships to students in Zimbabwe and Tanzania. Woodcock also spent a summer studying health care in Chile and Peru and another summer splitting her time between work at the Cancer Clinic at George Washington University Hospital and La Clinica del Pueblo, a free Latino clinic in Washington, D.C. After graduation, Woodcock decided to take a year off before continuing her studies. She worked full-time for six months as an Assistant Director of Clinical Trials and as a Director of External Practice Development for an ophthalmology practice, and then part-time for the following six months. She has just begun graduate school at Georgetown University to attain a Master's Degree in physiology and biophysics. She then plans to attend medical school. She hopes to use her medical degree to do service work in developing countries and also in underserved areas of the U.S. Woodcock enjoys spending time with her family and friends, working out, playing sports, being in the water and playing with her dog, Louis James. Woodcock currently resides in Washington, D.C. Her birth date is November 12, 1982.[2]
Candice Woodcock (27) Tribe: Heroes
Hometown: Fayetteville, N.C.
Current Residence: Washington, D.C.
Personal Claim To Fame: "Being the former Executive Director of Students for Students International."
Inspiration in Life: "My parents."
Previous Finishes: Cook Islands: 13th out, 5th Jury Member
Favorite Past Moment: "Winning the sand wrestling challenge in Cook Islands."
Previous Survivor She Respects Most: Tom Westman (Palau)
Previous Survivor She Respects Least: Corinne Kaplan (Gabon)
Why Did She Come Back? : "I'm always up for a challenge, and I love the game. I want a chance to play against the best!"[3]
Name (Age): Candice (30)
Tribe Designation: Returning Player
Relationship to Significant Castaway: John's Wife
Previous Season: Survivor: Cook Islands-13th out, 5th jury member; Survivor: Heroes vs. Villains-13th out, 5th jury member
Current Residence: Washington, D.C.
Occupation: Physician, Anesthesiology Resident
Why Did You Want to Return to Survivor and Play with Your Loved One? We are both successful in our individual lives, but we never get a chance to be competitive and play together on a team. I can't think of anybody I would trust more to be on my side as a teammate. I'm very proud of my husband and I want to show him off![4]
Survivor
Cook Islands
Candice started the game on the Caucasian Rarotonga tribe, where she became quick friends with all of her tribemates, notably Parvati Shallow, love interest Adam Gentry, and Jonathan Penner, who would join her in undergoing Mutiny. Life around camp was pretty easy in the beginning of the game since they never lost an Immunity Challenge during the stage of the game with four tribes. At the end of the Immunity Challenge on Day 6, Billy Garcia told her he was next to go on his tribe Aitutaki, who would be attending Tribal Council that night. Candice told him "we love you" ("we" as in Rarotonga), which Billy misinterpreted as "I love you", and so Billy told Candice he loved her. Billy told his tribe and Jeff that night at Tribal Council that his prize from the game was falling in love with Candice, although no one took him seriously.
Candice joined tribemates Jonathan and Jessica Smith (nicknamed Flicka) in going to Aitutaki after the tribe swap and dissolve, which turned 4 tribes (2 of 4, 2 of 5) into 2 tribes of 9. Cecilia Mansilla approached Candice and told her about what Billy said about falling in love with her, and Candice explained her side of the story and denied any attraction towards him, partly because it was not true and partly because she did not want her tribe to think she had connections with the other tribe; the tribe laughed at this. Candice would be sent to Exile Island following Aitu's defeat at the Day 8 Immunity Challenge, meaning she would be exempt from Tribal Council. Despite her absence, Jonathan negotiated his way into an alliance with Yul Kwon and Becky Lee, including Candice in it as a solid member above affiliates Cao Boi Bui and Jessica Smith.
Upon Candice's return from Exile, she acted like she paid no attention to strategic aspects of the game such as the Hidden Immunity Idol which was on Exile Island or her exemption from Tribal Council. Penner filled her in on the new alliance that had formed. On Day 15, both tribes had to go to Tribal Council. Cao Boi suspected that Penner had the Hidden Immunity Idol and formed Plan Voodoo, an attempt to split the vote between Jonathan and Candice to flush out the Idol and eliminate a member of the original Rarotonga tribe, which at this point was the most dominant of the four original tribes. However, unknown to Cao Boi, Yul was the true owner of the Hidden Immunity Idol. Yul questioned if Cao Boi was a reliable ally, and due to Cao Boi's eccentric behavior, Yul remained loyal to Jonathan and Candice and they blindsided Cao Boi. At the next Tribal Council they attended, Flicka would be voted off, being the outsider of the tribe.
The remaining members of Aitu anticipated a merge, and there was a lot of talk about an "All Aitu Final 6 alliance". Jonathan seemed interested in that plan but wanted to keep his alliance with Candice as his main alliance. However, Candice was certain that she didn't want the remaining Aitu members to become the final 6. Candice accepted the offer to Mutiny, and she would be followed by Jonathan. Her betrayal would cause her to be sent to Exile Island by the Aitu Four every time it was possible for the remainder of her game. However, Candice rekindled her alliance with Adam and Parvati, allowing her and Jonathan to survive three votes where Brad, Rebecca, and Jenny were voted off.
The four remaining original Raro members and Nate Gonzalez made it to the merge with a 5-4 numbers advantage. That advantage would be reversed onto the Aitu alliance since Yul used his Hidden Immunity Idol to convince Jonathan to flip back over to their side, which caused Nate to be blindsided on Day 27 and left Candice, Parvati, and Adam in the minority. After the Day 30 Immunity Challenge which Adam won, Candice was upset when the Aitu alliance was eating without the Raro alliance, and she expressed her anger towards Jonathan, whom she had no sympathy towards after his betrayal towards her. Sensing her competitiveness and because of her earlier Mutiny, Jonathan and the Aitu Four voted Candice out of the game that night in a 5-3 vote, meaning she'd finish in 8th place and become the 5th member of the jury. She kissed Adam on her way out, prompting Jeff to joke saying "Well, a kiss is nice; maybe if it were love, he'd have given you the Immunity Necklace".
At Final Tribal Council, Candice pointed out that Yul was dancing around the jurors questions and said she only wanted a yes or no answer or she will not vote for him. Candice asked Yul if he was shameless working the jury. After some hesitation, Yul said yes. Yul almost explained himself but Candice stopped him, pointing out he broke her rule. Despite that mistake, Candice voted for Yul to win the title of Sole Survivor, crucial in allowing him to defeat Ozzy in a close 5-4-0 vote.
Voting History
Candice's Voting History
Episode
Candice's
Votes
Voted Against
Candice
1
Rarotonga Tribe Immune
2
Rarotonga Tribe Immune
3
On Exile Island1
4
Aitutaki Tribe Immune
5
Aitutaki Tribe Immune
6
Cao Boi
Cao Boi
8
Jessica
-
9
Brad
-
10
Rebecca
-
Jenny
-
11
Yul
-
12
Jonathan
Becky, Jonathan,
Ozzy, Sundra, Yul
Voted Out, Day 30
Voted for
Sole Survivor
Yul
Heroes vs. Villains
Though controversial, Candice was placed on the Heroes tribe, due to her having chosen to nobly Mutiny from her tribe to join her former allies. Despite agreeing with the first two votes, Candice felt like an outsider and did not really form any strong relationships with anyone on her tribe, aside from Cirie Fields. On Day 6, her and Cirie became the critical swing vote in the Heroes tribe, having the sole power to decide whom would go home that night, Stephenie LaGrossa or Amanda Kimmel; ultimately, the pair decided to send the former home. On Day 11, Candice's worst nightmare came true when her main ally, Cirie, was blindsided from the game after Tom Westman played a Hidden Immunity Idol; from here on out, Candice never felt secure within her tribe. On Day 15, after Tom's elimination, Amanda Kimmel and a few other Heroes said that they did not trust Candice and that she would be the next to go. However, when both tribes were going to Tribal Council later that night, an Immunity Necklace was on the line, one for each tribe. Candice managed to win the Heroes' Immunity, saving herself from elimination. When James Clement was voted out, he stated that "Candice got really lucky. She was going home if she didn't win immunity". Afterwards, Colby Donaldson became the main outsider and Candice seemed to be on good terms with everyone on her tribe. As the Heroes would win the next three Immunity Challenges, Candice, along with the other four members of her tribe, began to feel extremely close.
When the two tribes merged, Candice at first sided with the Heroes, trying to vote out Jerri Manthey, despite Parvati Shallow countering the Heroes' plan by giving Jerri one of her two Hidden Immunity Idols. Russell Hantz, aware that Sandra Diaz-Twine was a swing vote, tried to convince Candice to join his alliance, and Candice said that she would think about it. Before the next Tribal Council, Sandra asked Candice whom she wanted to vote for and that she would vote with her. Candice finally decided on Amanda, which contributed to Amanda's elimination. Rupert Boneham and Colby were upset with her and, at the same time, worried that they would be next. However, after Rupert faked a possession of a Hidden Immunity Idol (which fooled Russell), they predicted that the Villains would either split the votes between Rupert and Colby or between Rupert and Candice, so Rupert and Colby took a chance in voting for Candice. When voting Candice out, Colby said "I can say I am proud of the way I played this game. Can you?". Candice was voted out by a 5-3 vote, finishing in 8th place and becoming the 5th member of the jury for the second time
At Final Tribal Council, Candice criticized Russell for his gameplay and compared Parvati to an abused wife who could never get away from the abusive husband (referring to her alliance with Russell). Candice would eventually vote for Sandra to win, along with the other four Heroes in the jury and Courtney Yates.
Voting History
Candice's Voting History
Episode
Candice's
Votes
Voted Against
Candice
1
Sugar
-
2
Stephenie
-
3
Heroes Tribe Immune
4
Tom1
-
5
Tom
-
6
James
Individual Immunity
7
Heroes Tribe Immune
8
Heroes Tribe Immune
9
Heroes Tribe Immune
10
Jerri2
-
11
Amanda
-
12
Rupert
Colby, Jerri, Rupert,
Russell, Sandra
Voted Out, Day 31
Voted for
Sole Survivor
Sandra
Blood vs. Water
Candice went on to play for a third time in Survivor: Blood vs. Water with her loved one and husband, John Cody. As she was a returning player, she joined the Galang tribe. During the First Impressions vote, she voted for Laura Morett because she did not know anything about her; however, the majority of the tribe voted out Candice for the same reason, sending her to Redemption Island. John, her loved one, was offered a chance to take her place, but Candice wanted John to play the game as she had already played twice before. While Laura Boneham was also voted out in the First Impressions vote, her husband Rupert Boneham (whom Candice had played with in Heroes vs. Villains) switched places with her, and joined Candice at Redemption Island
In the first Redemption Island duel, Candice and Rupert competed against Marissa Peterson; Candice won, and gave a clue to the whereabouts of the Hidden Immunity Idol to John, while Marissa came in second place, eliminating Rupert. Candice and Marissa next competed against Rachel Foulger, and, while Rachel was eliminated, Candice won and Marissa came in second again and Candice gave a second clue to John.
On Night 8, Candice was upset to find John join her and Marissa at Redemption Island. At the arena on Day 9, Candice made several negative comments towards Brad Culpepper, who had orchestrated her husband's demise in the game. John won the third duel, and Candice came from behind to place second, eliminating Marissa. After the Duel had ended, she instructed John to give the clue to Brad's wife, Monica Culpepper, but Monica instead burned the clue in the fire. On Night 10, she and John awoke to find Brad sent to Redemption Island. Candice said she could not be happier. At her fourth duel on Day 11, Candice went up against John and Brad, but ultimately lost by a hair in the final puzzle leg of the Duel against Brad finished for 2nd place while John finished in 1st. After her loss, she said goodbye to John and left the game.
Voting History
Candice's Voting History
Episode
Candice's
Votes
Voted Against
Candice
1
Laura M.
Colton, Gervase, Kat,
Laura M., Monica, Tina
Voted Out, Day 1
1
On Redemption Island
2
3
4
5
Eliminated, Day 11
Post-Survivor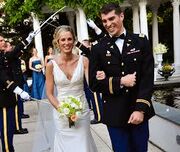 During the Live Reunion Show for Survivor: Heroes vs. Villains, Candice announced that she was engaged to John Cody. They got married on May 1, 2010 in Frederick, Maryland. Three years later, Candice returned to Survivor with her husband as part of Survivor: Blood vs. Water.
On January 9, 2010, Candice attended Survivor's 10-year anniversary party along with all of her Heroes vs. Villains cast mates.
Candice and John welcomed their first daughter, Beatrix Leigh Cody, born on September 12, 2015.[5]
Candice and John had their second child, a son named Forrest Henry, on June 7, 2017.[6]
Candice and John had their third child, a second son named Hunter Maxwell, on January 19, 2021.[7]
Trivia
Candice is the youngest contestant on Cook Islands.
Candice went the longest without going to Tribal Council in Cook Islands, where she first attended only in the sixth episode.
Candice is the first person to accept the offer to mutiny.
Candice was offered a spot on Micronesia, but declined as she had just started medical school.[8]
Candice stated that she was originally supposed to be a member of the Villains tribe, but was switched with Parvati Shallow at the last second.[9]
Candice is the only Hero to win individual immunity during Heroes vs. Villains.
Having finished 8th in two different seasons, Candice is one of five contestants to finish in the same position twice. The others are James Clement, Sandra Diaz-Twine, Jonathan Penner, Erik Reichenbach, and Tony Vlachos.

However, Candice is the first person to finish in the same position with the same number of castaways twice. She would later be followed by Erik.

Coincidentally, both were the youngest person on their original season.

Candice lost 10-12 lbs. in Heroes vs. Villains.[10]
Candice and her husband John were a replacement pair on Blood vs. Water for RC Saint-Amour and her father, Craig. Craig suffered hypertension one day before filming, forcing the pair to be replaced.[11]
Candice is the first returning player to compete under two different last names. She would be followed by Amber Mariano and Kim Spradlin-Wolfe.
Candice is one of three castaways to have lived on Exile Island and Redemption Island, the others being fellow Blood vs. Water castaway Aras Baskauskas and fellow Cook Islands castaway Ozzy Lusth.
References
Community content is available under
CC-BY-SA
unless otherwise noted.