Bradley "Brad" Virata is a contestant from Survivor: Cook Islands.
Profile
Retrieved from CBS.com
Brad Virata was raised in the small town of Oak Harbor, Washington, just outside of Seattle. The youngest of five children, he excelled at track, football and volleyball during his teenage years.
Virata received his Bachelor of Arts Degree in international communications from the University of Washington and was an active member of the Tau Kappa Epsilon fraternity. Shortly after graduation, Virata traveled throughout Europe and Asia working as a model. He then moved to Los Angeles to pursue a career in fashion and attended the Fashion Institute of Design and Merchandising. He began working in couture clothing sales and clothing design merchandising for Guess? Men's Division. He spent five years with the company and helped launch the clothing line "Los Angeles Denim Atelier." He currently works as the Director of Men's Merchandising for Lucky Brand Jeans.
Virata is an avid beach volleyball player and surfer. His hobbies include weight training, running, rollerblading, power yoga, beach volleyball and international travel. He is most proud of giving back to his community through work with organizations such as AIDS Project Los Angeles, Project Angel Food, Starlight Foundation and the Big Brothers Program of Los Angeles.
Virata is single and currently resides in Santa Monica, California, with his Boston terrier named Maxx. His birth date is November 23, 1976.[1]
Survivor
Brad was initially placed on the Asian-American Puka Puka tribe. Brad quickly became annoyed at Cao Boi Bui's racist jokes. Despite their differences, however, Cao Boi cured a headache Brad suffered early on. Puku Puka emerged as the strongest of the four tribes, winning the first two Immunity Challenges and keeping Brad safe.
At the tribe dissolve on Day 7, Brad was switched to Rarotonga, where he formed an alliance with the men on his tribe: Adam Gentry, J.P. Calderon, and Nate Gonzalez. The men felt comfortable in the game because they thought that the women needed them due to their physical prowess. When Rarotonga lost the Immunity Challenge on Day 11, Brad wanted to target Stephannie Favor because she had openly told the tribe that she was the weakest link and would not be offended if she was voted out. However, when Rebecca Borman approached Brad about the possibility of joining the women in blindsiding J.P., Brad initially seemed unsure of the plan, but eventually joined the women at Tribal Council in eliminating J.P..
With the women now in control, Brad felt uncomfortable and started working hard at camp. He started to become annoyed by Cristina Coria, whom he felt was bossing the tribe around. The rest of the tribe also became annoyed at Cristina, and the tribe collectively decided to eliminate her at the next Tribal Council. This opportunity came again when they lost the next Immunity Challenge. After the challenge, however, Stephannie revealed to Nate that she was looking forward to going home. Brad took this as a sign of weakness, so he and the rest of the tribe decided to vote out Stephannie instead of Cristina.
When host Jeff Probst announced a Double Tribal Council during the Reward Challenge on Day 15, Brad felt that it was time to vote out Cristina. Cristina knew she was in danger of being sent home, so she asked everybody to give her another chance and vote out Jenny Guzon-Bae instead. Brad was the only person who listened to Cristina, but she was still sent home in a 4-2 vote. At the Reward Challenge the next day, Brad elected to do the puzzle portion of the challenge instead of the swimming part, despite being seen as the best swimmer on the tribe. This annoyed Nate, who placed Rarotonga's loss squarely on Brad, claiming that anyone else could have done the puzzle portion.
When a chance to mutiny was offered on Day 20, Brad refused the offer along with the rest of his tribe. Instead, Rarotonga gained Candice Woodcock and Jonathan Penner, who had decided to mutiny from Aitutaki, back to their original tribe. Brad was on board with the plan to eliminate the newcomers, unaware of the alliance that had been formed by the original Rarotonga members. When Rarotonga lost the following Immunity Challenge, he was targeted by the newly formed Raro Alliance. When Brad told the tribe that he did not trust them, he turned the tribe against him and he was voted out at Tribal Council. Brad finished in 12th place, becoming the first jury member.
At the Final Tribal Council, Brad congratulated the finalists. He pointed out the very limited interaction between himself and Ozzy Lusth and asked what the hardest challenge he overcame was. Ozzy said that it was his experience with father and how the latter was not there for him. In the end, Brad gave his jury vote to original tribemate Yul Kwon, who became the Sole Survivor over Ozzy and Becky Lee in a 5-4-0 vote.
Voting History
Episode
Brad's
Votes
Voted Against
Brad
1
Puka Puka Tribe Immune
2
Puka Puka Tribe Immune
3
Rarotonga Tribe Immune
4
J.P.
-
5
Stephannie
-
6
Jenny
-
8
Rarotonga Tribe Immune
9
Jonathan
Adam, Candice, Jenny,
Jonathan, Nate, Parvati, Rebecca
Voted Out, Day 21
Voted for
Sole Survivor
Yul
Post-Survivor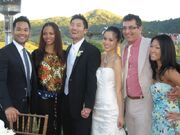 As mentioned in his Survivor Oz interview, Brad was the one to introduce fellow Cook Islands contestant Yul Kwon to his future wife, Sophie Tan.

On April 18, 2009, Brad attended Yul and Sophie's wedding.

On January 9, 2010, Brad attended Survivor's 10-year anniversary party.
Brad currently works as a creation director for E! Entertainment.[2]
Trivia
Brad is the first LGBT Asian-American man to compete on Survivor. He would be followed by Tai Trang, Vince Moua, and Hai Giang.

Brad is the first LGBT male POC on Survivor after Jolanda Jones who was the first LGBT female POC.

Brad is the first Pacific Islander contestant, specifically Native Hawaiian,[3] to compete on Survivor. He would be followed by Laura Morett, Ciera Eastin, and Rachel Ako.
Brad is the first castaway to finish lower than 9th place and be a member of the jury.
Brad is the first male contestant to be voted out before the merge and be a member of the jury and the second overall, following Erin Collins in Thailand.
Brad is the first contestant to become a member of a nine-person jury.
Brad is the first juror to attend a pre-merge Tribal Council as a member of the jury.
References