Rebekah "Becky" Lee is a contestant from Survivor: Cook Islands.
Becky worked in tandem with original tribemate Yul Kwon throughout the game, with the two eventually reaching the Final Tribal Council together with ally Ozzy Lusth. However, Becky was perceived by the jury to be a follower rather than a major strategist. Her comparatively weaker gameplay compared to Ozzy and Yul eventually led to her becoming the first finalist to receive zero jury votes, as well as becoming the first second runner-up in Survivor history.
Profile
Retrieved from CBS.com
Born to South Korean immigrants in Flushing, New York, Rebekah "Becky" Lee was raised in the suburbs of Pittsburgh. She attended Thomas Jefferson High School where she played varsity tennis all four years and did international volunteer work in several developing countries.
Lee received her Bachelor of Arts Degree in women's studies from the University of Michigan. While at Michigan, she was an active member of Alpha Kappa Psi and the Women's Boxing team. Lee continued on to receive her Juris Doctorate Degree from the University of Pittsburgh School of Law. While there, she was elected president of the Asian Law Students Association and was involved with Pitt Law Women's Association and Pittsburgh Asian American Young Professional Association.
Interested in the prevention of domestic violence, she has been working on issues concerning domestic violence survivors over the last eight years as a policy associate and attorney. She is also passionate about creating awareness of the specific needs of battered immigrant women, such as language access and cultural competency. She has previously worked as a kickboxing instructor, policy associate and legal intern.
Lee enjoys playing competitive sports, doing hot yoga, traveling to warm climates and going out with her girlfriends. Her favorite sport is football, and she especially loves watching her two favorite teams, the Pittsburgh Steelers and the Michigan Wolverines. She regularly plays flag football and tennis. She is most proud of passing the bar exam. She is a member of the Pennsylvania Bar Association.
Lee currently resides in Washington, D.C. Her birth date is September 11, 1977.[1]
Survivor
Becky was initially placed on the Puka Puka, which consisted of Asia-American castaways. While at Puka Puka, she quickly bonded with fellow Korean-American castaway Yul Kwon. When Puka Puka and Manihiki were dissolved, Yul, Becky, and Cao Boi Bui were switched to Aitutaki. On Aitutaki, Becky and Yul formed an alliance with Candice Cody and Jonathan Penner (Aitu Four). However, after losing the next Immunity Challenge, and Candice being sent to Exile Island, Becky's alliance found themselves in the minority, and Becky was the target. At Tribal Council, she received three votes, but thanks to Yul and Jonathan, Jessica Smith and Cao Boi sided with her alliance so Cecilia Mansilla was blindsided. Aitutaki then enjoyed a lengthy winning streak. However, on Day 15, host Jeff Probst announced both tribes would go to Tribal Council. Aitutaki won the challenge. At Tribal Council, Becky joined the majority in blindsiding Cao Boi. When Aitutaki lost immunity on Day 18, Becky joined the majority in voting out Jessica.
At the Reward Challenge, a "mutiny" offer was presented where anybody could change tribe affiliations. Candice was the first one to accept the offer. Jonathan followed her thus leaving Becky, Yul, Ozzy Lusth, and Sundra Oakley as the remaining members of Aitutaki. Despite the odds stacked against them, Aitutaki managed to win the remaining Reward and Immunity Challenges before the merge.
Becky and her allies entered the merge down 5 to 4. However, Yul managed to use his Hidden Immunity Idol to flip Jonathan to their side, thus putting Becky's alliance in the majority. Becky, Yul, Ozzy, and Sundra managed to eliminate the others and make it to the final four. On Day 38, host Jeff Probst announced that this season would feature a Final Three for the first time at Final Tribal Council instead of the usual Final Two. With Ozzy winning the Final Immunity Challenge, and Yul having the idol which kept him safe till the final three, it was decided that Becky and Sundra would compete in a fire-making tiebreaker. Yul offered to give Becky his idol, but she refused it. At Tribal Council, she and Yul voted for Sundra while Sundra and Ozzy voted for Becky. Since both Becky and Sundra were tied, they had to compete in the fire-making tiebreaker. Neither Becky nor Sundra could get their fire started with flint and machete after one hour and the jury became bored and restless. Jeff finally ordered both of them to stop and as an alternative, matches were given to Becky and Sundra, but both had trouble again maintaining a fire long enough to burn the rope. In the end, Sundra ran out of matches after half an hour, whereas Becky finally kept a fire long and high enough to burn the rope to secure her spot in the final three.
At the Final Tribal Council, Becky was criticized for her perceived coattail riding. She became the second runner-up receiving zero jury votes. She lost to Ozzy, who came in second with four votes, and Yul, who won with five votes.
Voting History
Episode
Becky's
Votes
Voted Against
Becky
1
Puka Puka Tribe Immune
2
Puka Puka Tribe Immune
3
Cecilia
Cecilia, Ozzy,
Sundra
4
Aitutaki Tribe Immune
5
Aitutaki Tribe Immune
6
Cao Boi
-
8
Jessica
-
9
Aitutaki Tribe Immune
10
Aitutaki Tribe Immune
11
Nate
-
12
Candice
-
13
Jonathan
-
14
Parvati
-
15
Adam
-
Sundra
Ozzy, Sundra1
Jury Votes
for Becky
-
Second Runner-Up, Day 39
Post-Survivor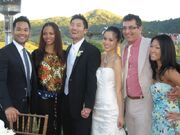 Becky is the founder and executive director of Becky's Fund; a national non-profit organization dedicated to the prevention and education of domestic violence.[2]
Trivia
Becky is the youngest member of the original Puka Puka tribe.
Becky is the first Asian-American woman to make it to the merge and the jury phase on her first attempt. Shii Ann Huang made the merge and the jury on All-Stars, but was voted out pre-merge on her first attempt in Thailand.
Becky is the only member of the Cook Islands final seven to not reside in California at the time of filming.
Becky and Sundra Oakley hold the record for the longest time taken to complete a fire-making tiebreaker challenge, with one and a half hours.
Yul Kwon and Becky are the first and second Asian-Americans to reach the Final Tribal Council respectively.
Becky is the first castaway to reach the Final Tribal Council and finish in third place, and the very first second runner-up in the show's history.
Becky is the first finalist to receive no jury votes.
References