Alexander "Alex" Bell is a contestant on Survivor: The Amazon.
Alex is best remembered for telling power-player Rob Cesternino that he would vote him out at the final four, which caused Rob to blindside him.
Profile
Retrieved from CBS.com
Alex Bell grew up in San Francisco and spent two years in the Sierra Nevada Mountains attending boarding school. He also studied communications at Laney College in Oakland, Calif. Bell currently trains individuals for triathlons. He previously worked as a projects manager for Team In Training, a fundraiser for the Leukemia and Lymphomia Society. Prior to that, he was employed by DreamWorks in the creative services and communications departments.
Bell enjoys competing in triathlons, snowboarding and writing. Bell describes himself as funny, determined and intelligent. After a serious struggle with drugs and alcohol during his teens and early twenties, Bell is most proud of turning his life around and maintaining his sobriety for 11 years and credits the unconditional love of his mother and family for helping him through the rough times. If he could be any superhero, he'd want to be Aquaman so he could breathe under water. His favorite movie is "Braveheart." If he wins the $1 million, he's buying himself a 1970 Pontiac GTO Judge convertible.
Bell is currently single and living in Los Angeles. His birth date is May 16, 1970.[1]
Survivor
Alex Bell was placed on the all-male Tambaqui tribe. Like the other men, Alex believed that the men would easily dominate the Jaburu women. Alex noticed a box that said "do not open". The men quickly built shelter and made fire. At the first Immunity Challenge, the men had the lead. However, Ryan Aiken and Daniel Lue had trouble crossing the balance beam. This allowed the women to win immunity. Alex settled on voting out Ryan and he was voted 4-3-1. Jaburu also won the first reward in the form of fish bait, much to the men's frustration, though Tambaqui would bounce back and win the second Immunity Challenge. Jaburu won the next Reward Challenge, during which Alex talked to Jenna Morasca. He had an argument with Roger Sexton about being gay (despite both men being straight). Alex realized he was a swing vote between the alienated Daniel or the abrasive Roger. After Tambaqui lost the Immunity Challenge, Alex ultimately voted against Daniel, sending him home. Things turned better as Tambaqui won the next two challenges. They won a fully functional refrigerator with Coca-Cola drinks, immunity, and fish they caught at the Immunity Challenge.
The tribes were asked to send its youngest member to have a night of fun, which was Dave Johnson. When Dave returned, he announced that Alex, Rob Cesternino, and Matthew von Ertfelda would be switched to Jaburu. When they arrived, they made a big entrance. Alex bonded strong with Shawna Mitchell, who had a breakdown just a few days prior. This worried Deena Bennett, who feared Shawna would be more loyal to Alex than the Jaburu Alliance. Jaburu won the Immunity Challenge and Alex and Shawna continued to bond. At the Reward Challenge, Alex lost to Dave in his first match but won his second match against Roger. Tambaqui won the challenge and also later won immunity. Alex and Shawna settled on targeting Matthew for being the biggest challenge threat. Alex assumed that the vote would be between him and Matthew. However, Shawna would be the one to get the shaft in a 4-2 vote.
Alex missed Shawna, but Rob felt that she distracted Alex from the game. The tribes were allowed to open the boxes at their camps, revealing that the tribes had merged. At the first individual Immunity Challenge, which was won by Deena, Alex along with Rob and Butch stepped down for pizza. Rob came up with a plan to divert the votes of the men of Tambaqui so they could blindside Dave. However, the target quickly shifted towards Roger for his personality. The plan worked and Roger was voted out in a 7-3 vote. At the Reward Challenge, Alex was teamed with Dave and Deena. They won the first round. However, Alex and Deena lost the final round to Dave and Alex than guessed incorrectly about how many fingers was behind Dave's back when Dave was deciding whether to take Alex or Deena on the reward. Dave failed to win immunity and he was unanimously voted out. Deena started to worry about Alex making a power play with Jenna and Heidi Strobel, so she wanted Alex to go if Matthew won immunity. Alex won the Reward Challenge and brought Jenna with him. The two indulged in coffee and pastries. The pair brought two cookies for every remaining person. Alex heard of the plot against him and turned to Rob to vote out Deena. Matthew won immunity and Deena was blindsided in a 6-2 vote.
Because they had the majority, Alex, Heidi, Jenna, and Rob relaxed while Butch Lockley, Christy Smith, and Matthew worked at camp. The outsiders looked at them with scorn. On Day 29, at the Survivor Auction, Alex first brought a mystery item for $240. When offered to exchange his original item for a new mystery item, he elected to keep the original. This was a mistake as he chose manioc flour over lasagna. Alex redeemed himself by buying steak and potatoes (a mystery item) for another $240. Later that night, Alex decided to tell Rob that he would likely be the one going out at the final four. Rob viewed the decision as curious, but would refuse to stand aside and be voted out. Rob was the one to win immunity. The alliance decided to vote out Matthew for his athleticism. However, they were unaware that Rob was plotting with the outsiders. After careful consideration, Rob voted for Alex, blindsiding him and making him the third member of the jury.  
At Final Tribal Council, Alex proclaimed that the words "honesty" and "integrity" mean nothing to him and didn't want to heard those words again. Alex then asked the finalists what their biggest regret in the game was. Jenna said placing too much trust in untrustworthy people. Matthew said it was naiveté and choosing to align with Ryan. In the end, Alex voted for Jenna to win.
Voting History
Alex' Voting History
Episode
Alex'
Votes
Voted Against
Alex
1
Ryan
-
2
Tambaqui Tribe Immune
3
Daniel
-
4
Tambaqui Tribe Immune
5
Jaburu Tribe Immune
6
Matthew
-
7
Roger
-
8
Dave
-
9
Deena
Christy, Deena
11
Matthew
Butch, Christy,
Matthew, Rob
Voted Out, Day 30
Voted for
Sole Survivor
Jenna
Post-Survivor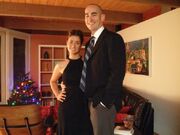 In August 2006, Alex married fellow Survivor alumna Kim Powers from Survivor: Africa in Los Angeles.[2] They currently reside in San Francisco, California and both also work for Backroads travel company.
Trivia
References